Breaking Barriers, Building a Hire Ground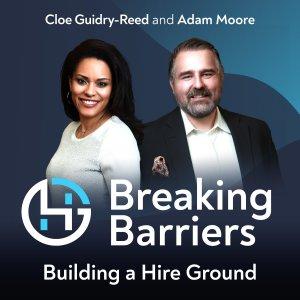 Honoring the Past; A Family's Legacy with Michael Russell
November 29, 2022
Michael Russell is the CEO of HJ Russell & Company, a family-run construction service business founded in 1952. It is one of the country's most prominent African-American-run businesses specializing in real estate development, program management, construction, and property management. HJ Russell & Company have completed over 500 projects and managed over 20 properties. As CEO, Michael is in charge of strategic planning and connecting with other minority-led businesses.
Michael joins us to discuss what it is like to be the CEO of a family-run business with over 60 years of history. He shares how he plans on honoring the legacy his grandfather and father made while also moving the company forward. He explains why family and business typically don't mix well. He describes how their company supports minority-led companies. Michael also shares his thoughts on the future of supplier diversity in business.
"You have to honor the past, but also position the business for the future." - Michael Russell
This week on Breaking Barriers:
●     The mission of HJ Russell & Company
●     The importance of legacies to companies as they grow
●     How reputation and historical impact can make business come your way
●     How Michael honors the legacy of his father and grandfather's contribution to the company
●     What Michael is doing to move the company forward while honoring the past
●     Michael's experience as the CEO of a family-run business
●     Why family and business do not typically mix well together
●     The guidelines and expectations for next-generation owners
●     Michael's interaction with supplier diversity and how it affects the construction side of business
●     How big is big enough to start thinking about supplier diversity
●     Michael's thoughts on supplier diversity as a minority-run business owner
Connect With Michael Russell:
This podcast is brought to you by Hire Ground
Hire Ground is a technology company whose mission is to bridge the wealth gap through access to procurement opportunities. Hire Ground is making the enterprise ecosystem more viable, profitable, and competitive by clearing the path for minority-led, women-led, LGBT-led, and veteran-led small businesses to contribute to the global economy as suppliers to enterprise organizations.
For more information on getting started please visit us @ hireground.io today!
If you enjoyed this episode, please subscribe and leave a review wherever you get your podcasts.
Apple Podcasts | TuneIn | GooglePlay | Stitcher | Spotify
Be sure to share your favorite episodes on social media and join us on Facebook, Twitter, and LinkedIn.
---
Download Episode