Worst. Show. Ever.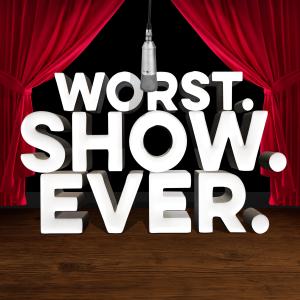 Latest Episodes

May 23, 2018
This is the episode we didn't delete. In retrospect, we probably should have deleted this one too. Dave's family prevents him from ranting about a particular text message, forcing us to buckle down and decide to write How to Win Your Marriage.

April 25, 2018
Sean has nightmares about Tommy Wiseau joining Sterling & Stone, and Dave has an awkward encounter with his racist neighbor.

April 18, 2018
Dave gets a late night visitor after accepting life alert duties. Later, the guys pitch ideas to replace WSE as Dave won't stop seeing the optimistic side of trite ideas.

April 11, 2018
Dave stresses about the day when [REDACTED] discovers WSE on YouTube. It couldn't possibly be any worse than when he had to explain female anatomy to him, right? Afterward, Sean sings the scrotum song and decides to secure the rights to Three's Company.

March 23, 2018
Dave's journey to Austin, TX was riddled with misery and construction. In this episode, Dave chronicles his trek to the land of ironically asshole drivers only to arrive at the very worst AirBnB anyone has ever visited.

March 09, 2018
Dave is curious about how other people exist. For example: how do people wash dishes in a conventional sink? And why are all the kids these days saying "pussy–bitch–mothafucker?" Dave also shares how he protected [REDACTED] from a cutthroat gang of hig...

March 02, 2018
Dave doesn't remember his wedding, or Sean's age, or anything else for that matter. But he does know three things to be true: Streaming services need to cut the shit. His mother-in-law may have no feeling in her butt. He's a psychic.

February 23, 2018
Sean shares his new scarf obsession when Dave adds Adam Driver to his shit-list. Dave then reveals that his wife is a "stacker" and his anxiety surrounding upcoming travel plans. Also, Dave is burdened with the task of recognizing his wife's friends.

February 16, 2018
12 months. 30 Days. 1 changed man. Sean and Johnny pep-talk Dave after he starts a series of 30 day challenges. Sean is about to attend his first dog birthday party and reminds us how much heat can be lost from your neck.

February 02, 2018
Dave's heart grows three sizes when he has to break the news about Santa to his son and tries to enjoy things as they're happening by living in the moment. Afterwards, Dave admits he sees the world through shit-stained glasses and Sean expresses his sa...