WellSeekers with Lucia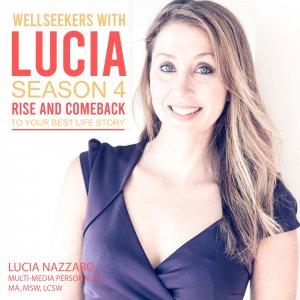 Lucia at Night: The Four Communication Styles! Which is Yours? Part 1 of 2
February 13, 2021
We're back and just in time for Valentines Day, with a special focus on communication styles! Understanding yours and your partners communication styles can only help you and your partner to communicate more effectively with each other. And good communication skills are essential in improving your personal relationships by helping you to understand others, and to be understood.

On today's show, we welcome Dr. Anna Kress, licensed clinical psychologist, as we help demystify the four different styles of communication, why it's important to understand their differences, and also to help you identify your communication style and your partner's communication style.
So which is your communication style? Which communication style is your partner or loved ones? Join us and find out on Lucia at Night, where we focus on relationships with all the important people, places, and things in your life. Also on Lucia at Night, dear friends Krista  and Sarah join Lucia as a place to laugh, connect, and learn to love yourself and others more well. Close the door on your day, and light up your night with Lucia at Night!
Find Us on Social @WellSeekers and @LuciaAtNight
Follow Lucia on Instagram @LuciaNazz
WellSeekers is great for mental health, holistic well being, stress, anxiety, self care, relationships, healing, growing, connecting, love, and life.
---
Download Episode