WellSeekers with Lucia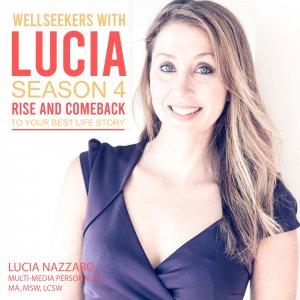 When the Holidays Hurt: How to Handle Stress, Anxiety & Give Yourself Permission to Enjoy the Season
November 17, 2019
The holiday season is suppose to be one that reminds us to stop and let in the peace, joy and love that surrounds us daily. In reality, over 80% of people in a recent survey reported feeling stress and anxiety around the holidays. So what if this this time of holiday bliss, really brings up hurts from the past, family dysfunction and a list a mile long to accomplish? How can we enjoy our holidays and rise and comeback to the place of joy we crave in spite of what transpires around us or creep sin from our past?
On this episode Lucia is joined by Dr. Danica Harris to talk about ways to enjoy your holiday season and diminish stress and anxiety in real and practical ways. Join Lucia and Danica as they kick off our 6 part series to help guide you and stand by your side this holiday season!
For more on Danica follow her on Instagram @theempoweredtherapist and on her site: empoweredhealingdallas.com
Find Us on Social @WellSeekers
Follow Lucia on Instagram @LuciaNazz
WellSeekers is great for mental health, holistic well being, stress, anxiety, self care, relationships, healing, growing, connecting, love, and life.
---
Download Episode