WellSeekers with Lucia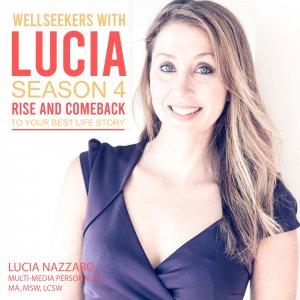 TOP WAYS TO REVIVE YOUR MIND & SPIRIT FOR SUMMER
April 22, 2019
This week we are kicking off or next series on WellSeekers to help revive our minds, moods and lives for summer.
I was surprised to find out that there are actually many reasons we need to especially nourish our minds and spirits in the summer and think you will be SHOCKED to hear some of them as well.
I know for myself this has been a hard winter for my mind and body, so as we head into summer, I am thrilled to take the next six weeks with you to seek, find and try ways to revive my mind, spirit, body and life to be my best self, for my own peace of minds and to better serve others.
On today's show join Lucia & Meditation Guru Swami Varadan as they discuss the difference in meditation practices for the summer and the best ways to create the mind, spirit and life you want for the summer.
Come on the journey to find your HAPPY & WELL NOW!
You won't want to miss this one:)
xoxo Lucia
Follow Us On Social @WellSeekers
WellSeekers is great for mental health, holistic well being, stress, anxiety, self care, relationships, healing, growing, connecting, love, and life.
---
Download Episode