Underwhelmed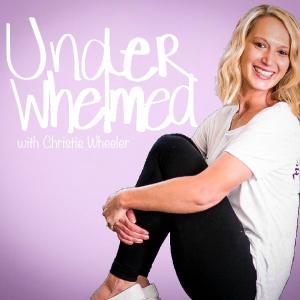 28: Kelly Molloy Sater is Funny
April 24, 2018
This week, Christie and Nicole are joined by former sorority sister and current writer and comedian, Kelly Molloy Sater.  The dynamic duo reconnects with Kelly and learns about her experiences in the comedy industry, life in New York, and how she balances her career with her three young children at home.  Christie and Nicole quickly learn that Kelly has done a lot in the past decade since they've spoken with her! 
Kelly's work has appeared in her blog (Lazy Baby Mama), the Huffington Post, College Humor, and Scary Mommy.  She recently accepted a full time job with Scary Mommy.  Additionally, she's had many fascinating experiences and opportunities within the comedy world that we think you'll really enjoy hearing.  Kelly may have even changed the girls' stance on Twitter- maybe!  We hope you enjoy this interview as much as Christie and Nicole enjoyed talking with Kelly.
Kelly can be found at https://twitter.com/lazybabymama or https://www.kellymolloysater.com. She also has a sketch show coming up on May 18th for those of you in NYC!
The girls also explain this week's adult Spring Break.  Participate in any of the daily fun and win a free t-shirt!  Check out our Facebook page, website, or Instagram account for more details on the most Underwhelming Spring Break ever.
Like us on Facebook so that you stay up to date with everything and anything Underwhelmed Podcast related- https://www.facebook.com/underwhelmedpodcast/.
Christie can be found on Instagram at https://www.instagram.com/realchristiewheeler and Nicole can be found at https://www.instagram.com/realnicolekokinos. The official Underwhelmed Podcast Instagram page is- https://www.instagram.com/underwhelmedpodcast.
Be sure to email us at info@underwhelmedpodcast.com with your questions and suggestions!
---
Download Episode