The Property Renovation Podcast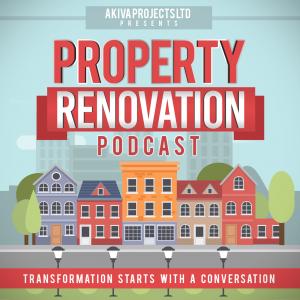 94 - Jamie & Charlotte from Roost Renovations Part 1
April 14, 2019
On this week's episode James speaks to Jamie and Charlotte about the beginning of their journey into renovation on a buy to let property that is a grade 2 listed property, so not a easy one to start with. They have previous experience in renovating their first property in Surrey Quays London and also went through the experience of applying for a lease extension.

Don't forget to listen out to next week's episode when we are launching our competition worth £100.00 in celebration leading up to our 100th Episode of the podcast.

How time flies when you're doing something you enjoy.

It's a short week for our listeners in the UK and Easter too so enjoy time off whatever you have planned.
We love pumping out new content every week to help homeowners across the world discovery more about the industry which in turn save them money and time on their project and we love speaking up for the great trades and professional in the industry that do a great job every day!
If you would like to support what we are doing, buy us a coffee :)
Are you are homeowner who wants to feature on the podcast?
Book a discovery call with us
Free Stuff
Get your free download to achieving the perfect renovation
Book a consultation to discuss your project
Watch us
Advertise with us