The Round Six Podcast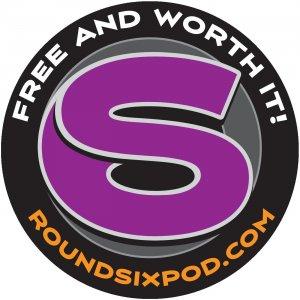 Chip Foose and Carson Lev: Repeat Offenders
February 08, 2019
"WHO LEFT THE SKID MARK IN THE BATHROOM?"
The Round Six Experience at the 70th Grand National Roadster Show was a hotbed of activity, and played host to a number of great guests! Here on Episode forty-five, we're joined by pat guests ("repeat offenders") Chip Foose and Carson Lev. It's a two-fer of the highest order, and these guys were a blast. Chip was being honored as "Builder of the Decade," and had an impressive display of a dozen cars, right across the aisle from the Gearheads, and talk turned quickly to judging and building cars to compete for the title of America's Most Beautiful Roadster... As well as macrame, bad puns and poop jokes, naturally.

Better than just a social visit, this one goes deep into lessons on licensing, indemnity and marketing, not to mention some great connections with Disney, CarsLand and Round Six. Heck, we'll even throw in some behind-the-scenes history on a few iconic builds. All of that and some Hot Rod Elvis approval on marketing gone weird with our stickers. Enjoy.
THINGS COVERED IN THIS EPISODE:


Skid marks and giant rings


Carson goes sock-free


The gang talks AMBR picks
– Chip goes outside of the box with his pick


The ever-evolving path to AMBR
– What it takes today VS in the past
– "Beauty" being the operative word VS the entire skill set


The process of elimination VS optimization
– Good execution of an idea VS poor design/aesthetic of an idea


Builder of the Decade, and how that came to be
– Even "Hot Rod Elvis" is not immune to oversight
– Keeping the spirit of Boyd in a car
– Speaking of Boyd... that photo
– A discussion of the styling cues on some of Chip's display vehicle choices


The 0032


The genesis of Foose Design
– The whole story behind the building and the steps that led to it


Boydster 1 and 2
– The Boyd bankruptcy


The AMBR rules change alleged controversy story


The Hemisfear and the JL Full-Throttle story
– A lesson in IP and indemnification
– Driving a Hillborn-injected 640HP, 2,300-lb car
– The last Dick Landy Hemi that almost was
– The Tom Gale connection
– The cease and desist letter
- A lesson in names and licensing
- "We don't have to be right; we just have to crush you"
- On not being afraid to change directions


The Cars Land story
– Brad's tool box
– A lesson in humility and having things work out well
– The Round Six/Radiator Springs connection
– The Disney security gate/name problem
– The last remaining original DisneyLand parking lot


Round Six marketing
– "Always a Happy Ending"


"Cheese, Everyone"


---
Download Episode