The Round Six Podcast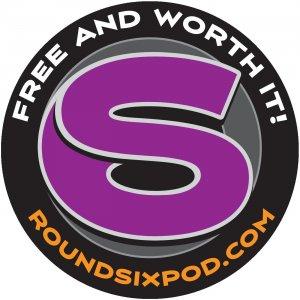 Intellectual Property Management with Carson Lev
December 14, 2018
"GETTING A CHECK IN THE MAIL IS THE SINCEREST FORM OF FLATTERY."

Carson Lev once again joins the Gearheads for an evening of learning. This time, we're starting an on-going series on Intellectual Property, Copyright an brand management, all aimed squarely at helping artists and designers to protect their work, and lay the foundation for a career. We're joined by co-host Del Swanson, who is nearing completion on his long-term project which has taken him away from the show for a bit, and it's great having him back with us.
While not an exhaustive course nor a complete resource, this episode gives advice, and sets any artist or designer up with the basics to begin protecting their work, and ensuring that they're making the work work for them long-term. This will develop over time into an ever-expanding series, and we'll be bringing in industry professionals, brand managers and even legal counsel to help you navigate the territory. We hope you'll join us, as we look forward to bringing this and so much more to you in the coming year.
If you're an artist just starting out, or have been established for some time but may be a bit cloudy on Copyright and Trademark and IP, then this is a great jumping-off point for you. Remember: You may be an artist first and foremost; but don't discount the fact that you are an artist in business.
THINGS COVERED IN THIS EPISODE:


Brian drops the sugar-coated approach, and dives right in


Return of the running ball gag joke


Carson Lev joins the gang


Del stops in following his world-wide Viking tour
– The joys of rapping and pillaging while wearing  horned hat


Discussing the effects of stolen artwork on the artist
– The frustration of dealing with Amazon, et.al. on issues of Copyright


The dilemma of putting work out there to promote VS protecting the art


Learning the difference between types of agreements
– Work for Hire VS Consulting Agreement VS Production Agreement VS Licensing or Transfer of Rights


The critical importance of properly crafting your agreements


Learning licensing by fire
– Working in licensing for the giants


Are you producing work to be transferred to the client, or licensing it?


On making protection affordable for artists just starting out


International Copyright and formal ownership on the world stage


Chip's work as example:
– Realizing the difference between building a car or a library of images to capitalize on


Value and its attachment to the work
– Added value versus surface value


Playing "hide the sausage" for fun and profit
– "Phallic extortion" becomes a thing... thanks, Alex


Infringement abroad
– International filing
– High cost may not even provide protection due to lack of enforcement by foreign governments
– When a foreign government encourages counterfeiting among its people


Del goes worldwide


Brian hatches a business plan


"Getting a check in the mail is the sincerest form of flattery"


When doing work to not take credit is the better way
– Scaling recognition VS money
– Artist as a tool versus a craftsman
– Art VS design, goal-wise
– Sometimes you're better judged by what you won't do


"A CERTAIN AMOUNT OF HOURS FOR A SPECIFIED OUTCOME."


On paying for the experience that leads to the level of work, not simply the physical hours to create it


Setting a plan and knowing when and how to alter it and let it evolve


On retaining the IP and reproduction rights of a design versus just building the car


Perception of the market once a name is established
– Ridler-winning shops that go dry because people think that's all they do
– When reality TV alters the brand message


How having a contract places you at a higher threshold and align you with more like-minded clients


The Disney Cars Land example of fair contract and creative license


Work-for-Hire with recognition can pay higher dividends than owning the IP in some cases
– When the "cool factor" is a bonus and how to recognize that


Transactional VS transformative relationships


"Your next raise will be effective when you are."


---
Download Episode