Teach Me, Teacher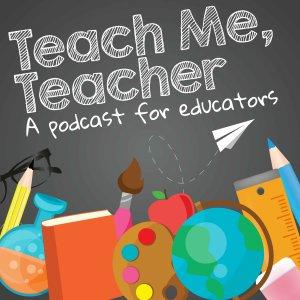 #257 Building an Empowered Writing Community (Erin Gruwell pt.2)
April 03, 2022
Hello everyone! Welcome to part two of my talk with Erin Gruwell! Last week, we discussed the power of writing, stories, and teaching honestly.
In this episode, we dive into HOW to create a workshop that that is an empowering writing community and why this should be our goal.
Backstory: Over twenty years ago, the students in first-year teacher Erin Gruwell's high school class in Long Beach, California, were labeled "unteachable"—but she saw past that. Instead of treating them as scores on a test, she understood that each of them had a unique story to tell. Inspired by books like Anne Frank's diary, her students began writing their own diaries, eventually dubbing themselves the Freedom Writers. Together, they co-authored The Freedom Writers Diary.
In Dear Freedom Writer, the next generation of Freedom Writers shares its struggles with abuse, racism, discrimination, poverty, mental health, imposed borders, LGBTQIA+ identity, and police violence. Each story is answered with a letter of advice from an original Freedom Writer. With empathy and honesty, they address these young people not with the platitudes of a politician or a celebrity, but with the pragmatic advice of people who have dealt with these same issues and come out on the other side.
You do NOT want to miss this one.
Want to support the podcast and learn how to empower writers? Check out: WRITEFULLY EMPOWERED
Tap into the Transformative Potential of the Writing Workshop
The time has come to shift how we think about writing in our schools. In Writefully Empowered, Jacob Chastain calls on educators to embrace the deeply personal, powerful, and transformative potential of the writing workshop by pivoting toward a classroom that honors each student's individual voice. As Chastain argues: "When we let-no, push-for students to use their voices for their own purposes, we give them what is rightfully theirs as human beings: the tools to shape the world in their image." Writing through this lens is an exercise in agency, empowerment, and self-determination.
Chastain outlines key considerations for creating a writing workshop that centers freedom, equity, and equality of opportunity. He begins with what writers need, classroom routines, and how to catalyze creativity through mini-lessons, independent work time, and conferencing. He also addresses how to track growth, advocate for equitable practices, and navigate the trauma that sometimes emerges in student work. A clear-eyed call to action informed by Chastain's years of classroom experience, Writefully Empowered will equip educators with all the tools they need to facilitate dynamic practices in their own spaces.
This episode is sponsored by Heinemann—the leading publisher of professional books and resources for educators—and their new classroom resource, Math by the Book by Sue O'Connell and colleagues.
Math is everywhere—even in great children's books! Teachers and students love a good story. But those stories can also help elementary students make sense of important mathematical concepts.
Math by the Book shows teachers how to use high-quality children's books to teach grade-specific math skills and content. You'll find activities, investigations, and teaching strategies…all paired with lists of carefully chosen K-5 literature.
So, if you're looking for a fresh way to bring math teaching to life in your classroom, visit MathByTheBook.com to download a free sample or order a copy. That's MathByTheBook.com.
---
Download Episode