Ship Full of Bombs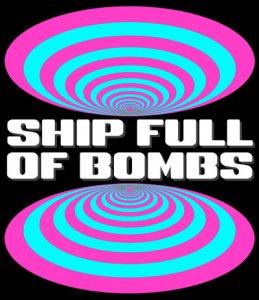 Latest Episodes

November 14, 2022
Dead Can Dance Rakim (Live)Dr. John I Walk on Gilded SplintersDoc Watson Down in the Valley to PrayDirty Three Alice Wading (Live at Meredith)Dead Kennedys Nazi Punks Fuck OffDAF Nach

November 06, 2022
The songs:Bob Dylan - I Contain MultitudesMississippi John Hurt - Make Me a Pallet On Your FloorPeter Case - Some Bright Morning BluesHank Williams - Im So Lonesome I Could CryEmmylou Harris

November 06, 2022
Doug takes a look at the Austin Americana music of the 1970s & 80s with some added Bluegrass and Pure Country .

November 03, 2022
SONIC ASYLUM - Ship Full of Bombs Session#106 - 03-11-2022Lou Reed - Kill Your Sons (Demo)Praise Space Electric - Inbetween TimesGoat - Under No NationElectric Orange - RaumschafEarthless - Uluru Roc

November 02, 2022
Primal Scream and Dexys - Enough Is Enough! @RMTunion @ScreamOfficial @DexysOfficialConfidence Man - Angry GirlYeah Yeah Yeahs - Date with the NightMadness - Night Boat to Cairo#10 Nautical Top 10 C

November 01, 2022
Intro: One More Night Can 1. Sock It To Em J.B. Rex Garvin & the

October 31, 2022
Several bees and maybe some sort of badger.....who knows. But what we can tell you is the music is flowing like a river, but there is no water.

October 30, 2022
Join Doug for the very best in jazz and blues.Times Are Getting Tougher Than Tough - Jimmy WitherspoonGone Into It - Curtis Amy & Frank ButlerWild Women Don't Have The Blues - Nancy HarrowCadillac

October 28, 2022
First Broadcast October 28th 2022SHIP FULL OF BOMBS RADIO01) Intro02) Freedom as a Heartfelt Song - WORK, MONEY, DEATH03) Its Gone - MISHA PANFILOV04) Eboness (Kwanza) - ROY BROOKS & THE ARTIS

October 27, 2022
With Dan away Ashley is joined for the Halloween edition by Gemma Longhurst. They talk about ghost hunting tv shows, a bit of politics and tell some spooky storiesProducer Mark provides some suitab