Sexless in the City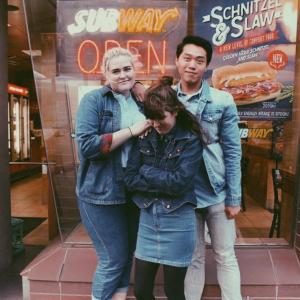 Latest Episodes

July 31, 2016
Oh man, do we have an episode for you! Our friend Aziz makes his debut to tell us some crazy stories and give us all tips on how to be better at going down on a man (thanks Aziz, you're doing important work). 

July 25, 2016
Wow. What a week this was. Kit's friend, mysterious Molly, came on the show to talk about her adventurous sex life. We talk pegging, BDSM, vanilla sex as well as the Kimye/T-Swift drama, some of the fights Molly got into in high school and Trung admits th

June 26, 2016
This week, we re-hash old wounds from the past to make up for Trung being in a commited relationship. We talk about Trung's feet, Easter Egg hunts, our families, Boyfriend pillows, Gigolos and much more! It's a great one.

June 09, 2016
In Sexless in the City this week, Trung tells us about a guy who tried to hack his instagram; and we almost get threatened with a lawsuit because of it. Kit talks about a text she got out of the blue, and then feels guilty about reading it out loud on the

November 27, 2015
This week was Heartbreak Week in which Kit, Trung, Jaspreet and Beth all tell stories of times they've been heartbroken.  For some reason, the radio feed was crazy so sometimes the audio stuffs up but that's just something we can't help!

November 27, 2015
This week; Kit, Billie and Trung discuss safe sex, virginity, consent and porn. We also play a game called "has Trung had sex to this song?" which will be fun for you to play along with at home! This one comes from the archives and was originally aired in

November 05, 2015
This week, Kit is away but Jaspreet joins Billie and Trung as an amazing special guest! They talk about intense moments they have experienced, Youtubers, Fifth Harmony and more! A great episode with classic Trung drama. Also, the recording automatica

October 30, 2015
This week Billie couldn't make it so Kit and Trung talked about feminism! Topics included why men are the worst, why Kit doesn't have a boyfriend and various verbal fights Trung and I have had with people about feminism. Like us on facebook.com/sitcshow a

October 15, 2015
This week two thirds of the gang were exhausted so it made for some pretty funny content. We try to talk about boys that have wronged us but we go on to talk about so much more. Follow us on Facebook and Twitter: www.facebook.com/sitcshow www.twitter.com/

October 14, 2015
This week the gang talks about moving on. Kit gets as scandelous as she'll ever get, Trung almost brings us to tears and Billie reads some fan fiction she wrote. Follow us on Facebook and Twitter: www.facebook.com/sitcshow www.twitter.com/sitcshow