Seek The Joy Podcast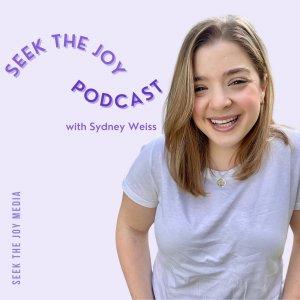 Lessons In Dating Your Business with Miriam Steketee
September 21, 2021
Miriam Steketee joins us to share a lesson she's learned about dating your business, building relationships, and why it all starts with investing in yourself and your passion. Miriam shares what it means to date your business, how we can fall in love with building relationships, the types of relationships that lead to wild success in your business, and what often holds us back from embracing our biggest dreams.

Plus, Miriam shares why we should expect to get ghosted (and why it's a good thing!), what's surprised her the most about dating her business, and the joy she's found. Miriam's reflections, honesty, and vulnerability will leave you feeling inspired, and remind you that true success is built from strong relationships and friendships you make along your journey.

Miriam Steketee is a former dancer and corporate gal who turned a network marketing side hustle into a seven-figure business in just four years. She left the corporate rat race in New York City to build a life and career she loves on her own terms, from home. Today, her passion is to help women live authentically and become the best version of themselves, and believes building and maintaining relationships are the keys to sustaining a business long-term. 

To learn more about Miriam visit her website https://www.miriamsteketee.com/ and on Instagram @mimistek Facebook @mksteketee and LinkedIn here

Links & Sponsors: 

Thank you to today's sponsor, Better Help. We want you to be able to live a happier, more joyful, and ease filled life, and I'm excited to share that as a listener of Seek The Joy Podcast, you will you get 10% off your first month by going to betterhelp.com/seekthejoy. 

Seek The Joy MERCH is here! Check out our fav new designs here  

Subscribe to our Newsletter! seekthejoypodcast.com/subscribe. You won't regret it.
---
Download Episode