The Peter Schiff Show Podcast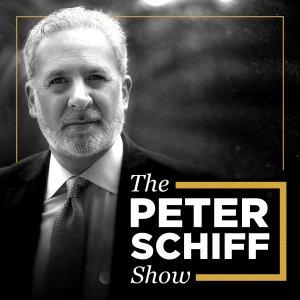 Latest Episodes

September 24, 2020
Dollar rallies in the face of stock market fall. Bubble stocks more bubblicious. Monetary stimulus only stimulates inflation. Daymond John wants the government to print more money. It's not an L-Shape or V-Shape recovery,

September 22, 2020
Everything gets slammed. Chart looking weak for the Dow and Russell, strong for silver. Bloom coming off the rose of economic recovery. Political tensions rise with death of Ruth Bader Ginsburg. US government is the biggest threat to America,

September 19, 2020
Rough ride for the indexes this week. Fed commits to 0% interest rates until 2023. Neel Kashkari thinks that's not enough. Air is coming out of the retail sales bubble. Temporarily closed businesses close permanently.

September 16, 2020
Secretary of Treasury is really Secretary of Debt Fed doesn't think Americans are in enough pain. Education and healthcare are too important for the government to be involved in. Biden pledges to nationalize corporate America.

September 12, 2020
Markets end week on a mixed note. Gold consolidating support above previous highs. Fed has come out of the closet. Alan Greenspan sounds more like Peter Schiff as he gets older. Government did more harm to Americans with the War on Terror than the ...

September 09, 2020
NASDAQ has a full blown correction. TSLA is the poster child of the stock market craziness. Slack is not an investment. Air coming out of stock market bubble. Dave Portnoy is the poster child of day traders. Bitcoin's support is weakening. -

September 05, 2020
The biggest bubble may have popped without a pin. Charts show bad omen for the NASDAQ. The biggest bubble ever won't die easily. Strength in gold stocks improving. Tesla (TSLA) sells off. Treasury market killed.

September 02, 2020
S&P has its best August since 1986. APPL and TSLA continue soaring after splits. TSLA rains on its own parade. Zoom zooms. Loot this book. George Floyd died of a drug overdose. McDonald's sued for treating black owners equal to white owners.

August 28, 2020
Fed changes the rules for inflation target calculations. Markets react to Powell's announcement. Prices go up when people aren't working. Majority of middle class will be impoverished Into lower class. Gold's resistance has become support.

August 26, 2020
Good news for Facebook stock is bad news for Main Street. Housing market booms - just like it did before the 2008 crash. Layoffs increasing. Many jobs permanently gone. The voting age should be raised. Happy Birthday Spencer!