Saturday Magazine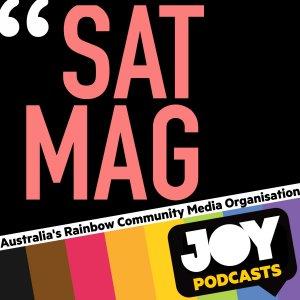 Latest Episodes

January 14, 2022
Lawrence Gibbons, publisher of Star Observer @Star_Observer provides a rundown on the recent conviction in Scott Johnson's 1988 murder case.

January 14, 2022
Daryl Adair @DarylAdair, Associate Professor for Sport Management at UTS Business School shares some updates this morning on the Novak Djokovic saga.  

January 14, 2022
Jo Caust from the School of Culture and Communication at Melbourne Uni discusses the Sydney Festival boycott and the effect on the arts.

January 14, 2022
Macca @DavidDMacca and Michael Veitch give us their views on the Djokovic circus.

January 14, 2022
Karen Bryant, CEO of Midsumma @midsumma brings us the latest updates on the festival  

January 14, 2022
Nicholas Reece @Nicholas_Reece, Deputy Lord Mayor at City of Melbourne discusses the failure of the Federation during this Covid crisis.    

January 14, 2022
Catherine Bennett, Chair in Epidemiology, Deakin Uni enlightens us on Covid-19 updates.

January 14, 2022
This morning we have a huge show. Tass is away and our guest host is the marvellous actor and author, Michael Veitch. They preview the show ahead and reflect on... LEARN MORE

January 07, 2022
Ros Grundy @Onetui, former Victorian editor of Nine's Good Food Guide; deputy print editor Good Food/Epicure talks about the havoc Covid is having on hospitality sector. How can customers can help...

January 07, 2022
Stephen Duckett, Health and Aged Care Program Director at Grattan Institute says it's been a 'Complete collapse of leadership': Australia's recent Covid response amounts to world-class bungling