Reimagine Medicine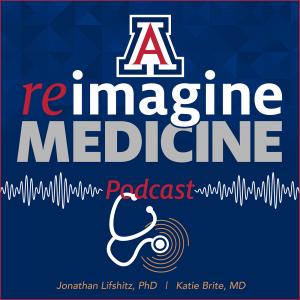 Episode 9 – Preparing Future Health Professionals to Battle America's Opioid Epidemic
December 04, 2019
In 2017, Arizona Governor Doug Ducey declared a public health state of emergency as more than two Arizonans were dying each day from opioid overdoses. The Arizona Opioid Epidemic Act was introduced in response to the opioid epidemic. It is the most comprehensive package any state has passed to address this issue and crisis to date.

As a result, undergraduate and graduate health education and practitioner programs in Arizona have developed a first-of-its-kind statewide curriculum that calls on all provider types to address the public health emergency.
We are talking with leaders who are at the forefront of helping solve America's biggest public health issue.
Episode guests: Cinda Stone, MEd, Maria Manriquez, MD, FACOG, and Luke Peterson, MD
Hosted by: Jonathan Lifshitz, PhD and Katie Brite, MD
---
Download Episode