Quest for Truth by Life Truth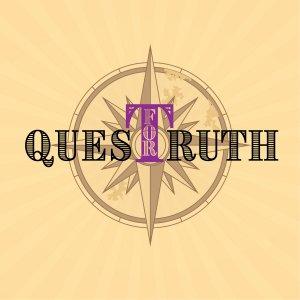 Truth Exposed 16 Overwhelmed. John 6:1-15. (267)
April 27, 2020
In this spectacular miracle that gets mentioned in all four gospels, it's said the first miracle wasn't in the feeding of the crowd, but that a boy still hadn't eaten his lunch yet. Still, even the smallest of contributions go a long way.

Today, we dive in deep to learn as much as we can about depending on Jesus when life overwhelms. Also in relying on wealth or physical resources to satisfy. Following his instruction turns out to be easier on us as we pass along the things he supplies. The deepest hunger any of us can have is for spiritual food. Make Jesus your spiritual king.

Using the ESV (English Standard Version), here's a few notes to consider on

Verse 1-4

1 After this Jesus went away to the other side of the Sea of Galilee, which is the Sea of Tiberias.
2 And a large crowd was following him because they saw the signs that he was doing on the sick.
3 Jesus went up on the mountain, and there he sat down with his disciples.
4 Now the Passover, the feast of the Jews, was at hand.

The importance of this miracle is underscored by its appearance in all 4 gospels.

"After this..." though Jesus did plenty in the area of Galilee up to this point, a great deal of his ministry here is glossed over. Time has passed, and Passover is here again likely the following year after events of chapter 2.?

Why were the crowds there? one theory claims they may also have been on the way to observe Passover. The crowds followed Jesus to have their physical needs met.

Before dealing with the immediate need, Jesus had withdrawn with his disciples to prepare them for his final days.

Verse 5-6

5 Lifting up his eyes, then, and seeing that a large crowd was coming toward him, Jesus said to Philip, "Where are we to buy bread, so that these people may eat?"
6 He said this to test him, for he himself knew what he would do.

Jesus was fully aware of the people and their need. he offered his disciples the chance to make their own solution. his request held them responsible to do something, despite the great need of the crowd.

It was a test, but he knew their situation, the disciple response, and his own solution.

Verse 7

7 Philip answered him, "Two hundred denarii would not buy enough bread for each of them to get a little."

A Denarius. a day's wage for a common worker. the wage for minimum wage worker.. 200 denarii might be the amount to get a modest meal for each of the families among the crowd. it would amount to 200 days wage, or 8 month salary to provide for all who were present.

Verse 8-9

8 One of his disciples, Andrew, Simon Peter's brother, said to him,
9 "There is a boy here who has five barley loaves and two fish, but what are they for so many?"

Andrew is always found bringing people to Jesus. Instead of searching money sources, he scouts people, and food supply. But all he can find is the meager lunch of a boy.

According to Expositors Bible Commentary: Barley loaf, the most cheap kind of bread. the fish, could be pickled fish. Little more than an appetizer.

Verse 10

10 Jesus said, "Have the people sit down." Now there was much grass in the place. So the men sat down, about five thousand in number.

"Sit down." Jesus stopped asking, relying on men, and began practical instructions.

J Vernon McGee comments on the tribal grouping, colors, and numbers in the picturesque scene.

Verse 11

11 Jesus then took the loaves, and when he had given thanks, he distributed them to those who were seated.
---
Download Episode