Regenerative Skills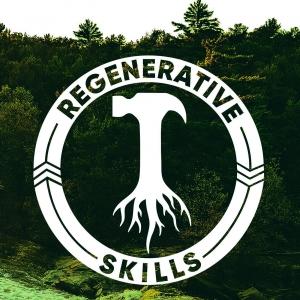 A holistic look at physical health and well-being with Crystal Honeycutt part 2
June 09, 2023
Just checking in while still on a short holiday. I just dropped my mom off at the airport at about 3 yesterday morning after a wonderful week of her visiting us, my sister, and her girls at the farm. It's been such a blessing to have almost all my favorite women under the same roof for a time. My family is scattered all across the world, so these moments when a number of us can be together is really precious to me, and a big motivation of why Alba and I moved out here to begin with. Though we only moved into this place back in December, it's already fulfilling the dream of bringing mine and Alba's families closer together. 
The down time has done me a lot of good as well. Though wrangling a bunch of little kids is anything but relaxing as most of you know, it's thoroughly fulfilling to watch them discover a few abilities and life lessons while finding their feet and bearings through this gorgeous natural environment. 
They've been learning to take care of the chickens, identify plants that we can eat, and which ones are stingy and pokey. We've been playing in the river and making erosion barriers. Yesterday we planted trees for a new hedge, and made some rainwater diversions in the road. 
I also had the time to have some deep conversations with my mom and sister looking ahead for what we want in our lives. My mom and dad are reaching retirement age, and they're looking at references of my grandparents, all of whom are in their 80s with rapidly declining health. We've talked about how we should be taking care of ourselves and one another as we age and change from roles of care receivers to care givers. Things like risk factors, maintenance, and even graceful decline came up, all of which are very relevant to this ongoing topic of holistic health that we continue to explore in this show. 
So with that said I'm excited to bring you the second part of this conversation I had a good few years ago with my close friend and nutritionist Crystal Honeycutt. This second part focuses on the topics of supplementation for faster recovery, the nuanced definition of regenerative health and how we can rise above our low standards of health as they currently are to reach our superhuman potential.
---
Download Episode