Regenerative Skills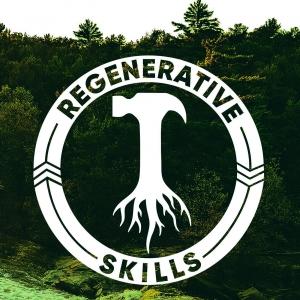 Laura Lengnick on the principles of building climate resilient farms. Part 1
October 29, 2022
It's been a wild couple of weeks for me and as a result I'm struggling a bit to catch up. After the 5 day regenerative Design course at the Green Rebel farm in Miravet, Spain, then the three day Climate Farming conference at Schloss Kirchberg in Germany, and I'm now on a short break visiting the small farm of a good friend of mine in Dessau between events before a week long team retreat with the Climate Farmers team in Brandenburg. When I get back I've got tree planting events lined up in the Pyrenees and then I'll be facilitating a course in Tuscany on restoring hydrological function to the landscape with Zach Weiss and Lorenzo Costa. Maybe by the end of November things will calm down in time for my partner and I to move into our new property which we were finally able to sign the papers on after a year of paper and admin work! Fewf!All of that is to say though I've got plenty of great interviews lined up for you, I might be a little irregular in releasing the episodes over the next month.But enough about me.

This week I'm thrilled to present the first in a two part series exploring the topic of building true resilience in agriculture. Resilience is often thought of as the ability to bounce back from a disturbance or a challenge, but in these two episodes we're going to dig deeper and not only broaden the theory of true resilience, but also to look into case studies of growers and land stewards who are building lasting resilience on their farms. To help me to understand all of this better and to give practical advice that all of us, even those of us that don't work directly with the land can use in our lives, I had a wonderful conversation with Laura Lengnick.Laura is an award-winning soil scientist with 30 years of experience working as a researcher, policymaker, educator, activist and farmer to put regenerative values into action in U.S. food and farming. Her research in soil health and regenerative farming systems was nationally recognized with a USDA Secretary's Honor Award in 2002 and she was a lead author on the 2013 USDA report, Climate Change and Agriculture in the United States: Effects and Adaptation.

Since 2015, Laura has led research and planning projects exploring agricultural climate solutions, developed carbon management plans for organizations, and designed and delivered climate risk management workshops for farmers. Laura is also the author of The 2nd edition of her award-winning book, Resilient Agriculture: Cultivating Food Systems for a Changing Climate in which she explores climate change, resilience and the future of food through the adaptation stories of 45 sustainable, organic, climate-smart and regenerative farmers and ranchers across the U.S. In 2021, Laura joined the Glynwood Center for Regional Food and Farming as the Director of Agriculture. You can learn more about Laura and her work at www.cultivatingresilience.com

In the first part of this series, we'll explore how changes in climatic patterns and rise in temperatures are affecting farmers around the world and how they can understand the risks they'll likely encounter in the coming decades. We also talk about the unique sensitivities that each landscape and farm has, and how you can use this understanding to build your own resilient capacity.

Thanks to my partnership with New Society Publishers who published Laura's book, as well as many other invaluable volumes centering on topics of regenerative living, listeners of this show who are also signed up on our Discord community, can now win either a physical or digital copy of Resilient Agriculture over the next two weeks. It's super simple to be eligible to win. All you have to do is sign up for free to the Discord server either on the homepage on our website at regenerativeskills.com or through the link on our bio on instagram. Once you're in, just send me a direct message letting me know that you'd like to win a copy of the book and I'll enter you in the drawing which I'll do a w...
---
Download Episode