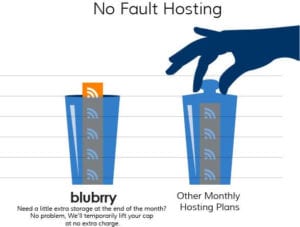 As experienced hosts know, podcasting can be full of surprises. An episode may perform better than you expect, or you might find that it contains an error after it goes live. Since a big part of Blubrry's philosophy includes providing excellent customer service and supporting podcasters so they can put out the best possible show, we've built in several features that will allow you to deal with unexpected bumps and blips without losing time or money.
For example, No-Fault Hosting allows a podcast to go over storage limits by 25% without penalty. "For example, a 500mb storage account can get up to 125mb of extra storage if needed," explains Todd Cochrane, CEO of Blubrry. "The way this works is pretty simple, but also important. If a show has used 475mb of its storage for the month and the podcaster has a 75mb file to upload, we will allow the episode to be posted and published going up to 550mb. But once that is done, no more data can be published: it's a one-time usage per month."
But what happens if you publish an extra episode out of normal rotation. You may need a bigger bump in storage than what no fault allows that does not warrant increasing your hosting plan, "We will sometimes bump folks up on a one-time, case-by-case basis, to help them in a special production month. If the show regularly runs out of storage by the 25th, we generally recommend that they upgrade if its part of their normal show production."
"We always give our customers the benefit of the doubt," agrees Blubrry CIO Angelo Mandato. "If Thursday is their release day but the start of the month is on Friday, we see no reason to make a customer pay us a fee just to push one more episode out. With No-Fault hosting, they can push their normal quota without worrying about it."
Bottom line, whether you're experiencing a temporary spike or a slower climb, Blubrry is here to help. "We try to help podcasters the best we can and be accommodating," says Cochrane. "That's why we have free migration for 30 days for new account holders. Even if they don't manage to get their migrated within 30 days, sending an email to support is usually all it takes for us to add another 30 days to their migration." Cochrane points out that while migration does not count against a podcast's standard quota, the user will need to use the migration tool in PowerPress or on the podcaster dashboard at blubrry.com.
Long Tail Podcasting is another Blubrry service that can save podcasters time and money. "Sometimes someone needs to do a edit or change an ad. Long Tail allows the podcaster to over-write a media file with a file of the same exact name, so long as the new file stays within reasonable size of the old one. They can replace a file and not go against their current quota, even if the original file was published months ago."
It should be noted that it can take a few hours for the file to clear the cache at the CDN. "If the podcaster wants us to flush the cache faster, they have to contact us during normal business hours," explains Cochrane. "A replaced file will update across the CDN naturally, but it is important for folks to understand this is not instantaneous. Uploading the new file and immediately checking for it will likely result in confusion, as the file is not updated with the CDN."
Long-Tail Podcasting and No-Fault Hosting are just two ways that Blubrry is committed to looking out for you, the podcaster. No matter how big your show grows, we're here to support you every step of the way.