Podcast: Play in new window | Download (Duration: 31:57 — 44.0MB) | Embed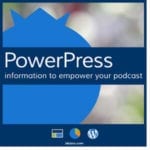 If you've ever felt like you needed to transform your life or needed a little more balance, specifically if you're a mom, this week's PowerPress Podcast guest Rhonda Cimorelli can help you. Before Rhonda and MacKenzie chat about her show, they go over some mistakes podcasters make and, most importantly, how to avoid them. Rhonda has loads of experience and, as a certified life transformation coach, she is helping "momprenuers" and others create a more balanced work and family life. At the end of the show they talk about the new podcast, S-Town being released by the This American Life and Serial team. The team claims to have a new podcasting format, so storytellers, tune in. Thanks for listening and please subscribe!
Fan of PowerPress? Leave us a review, here!
Show notes:
Common Podcasting Mistakes
A Balanced Life For You – Rhonda Cimorelli
Serial Creates S-Town
Blubrry Twitter
Blubrry is Hiring!!
Webinar: PowerPress Setup Wed, 2/15 7PM EST