Podcast: Play in new window | Download (Duration: 28:02 — 25.8MB) | Embed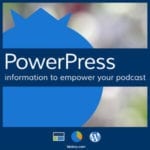 MacKenzie and her guest, Rae Palermo, discuss an exciting new service, Podcast2Radio, coming from Blubrry and their partner, StreamGuys. If you're looking for more distribution for your podcast, tune in to this episode to find out just what Podcast2Radio can do for your podcast.
With Podcast2Radio Blubrry customers can easily convert their podcasts into a continuous internet radio stream. Your podcast will have additional syndication, and will be easier than ever to find for the large segment of listeners that are streaming internet radio. Our partner, StreamGuys provides the cloud-based software to deliver your podcast and once you're set up, it's all automatic.
We're not changing anything about your podcast, just simply converting your RSS feed into an internet stream that millions of new listeners will have access to. It's been a long time coming and MacKenzie and Rae are excited about the possibilities associated with all of the new distribution partners via Podcast2Radio.
Both companies will be attending Podcast Movement and would love to talk to podcasters about what this can do for your show. Check it out, we're excited about this opportunity and can't wait to see what the future holds.
Show notes:
Podcast2Radio
StreamGuys
Podcast Movement
Email MacKenzie
Email about Podcast2Radio