The Marketing Fundamentals Podcast | LeadPlan Marketing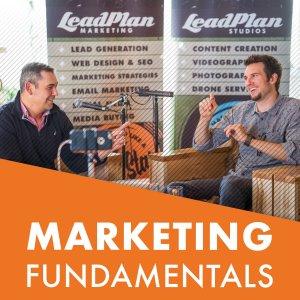 Latest Episodes

December 12, 2019
Today's guest is Carl Kuran, founder of Leefy Organics. As you learn about influencer marketing, Carl discusses his success with influencer marketing including a secret: passion over profit. While a large audience doesn't always translate to sales,

November 11, 2019
John and Mike have an entertaining and accessible conversation about the buyer's journey. What is it, and how do we leverage it for our business? Numerous examples illustrate how this works from the business side as well as the buyer.

October 30, 2019
John and Mike sit down in-studio with hospitality marketer and entrepreneur Kevin Spagnuolo to discuss connecting great businesses and events with the people that want to enjoy them. Some of Kevin's creations include What's Up Traverse City,

October 14, 2019
We had a great conversation with LinkedIn expert Raza Imam, bestselling author of a dozen books including LinkedIn Sales Machine. Leverage this Business to Business (B2B) social media giant to foster relationships with qualified prospects that want to...

October 14, 2019
In-studio this week, search experts AJ and Rocky join John and Mike to discuss what Search Engine Marketing (SEM) is. We'll break down jargon, dive into paid versus organic search, talk about, and practical things you can do. [powerpress]

September 03, 2019
John and Mike talk about 4 of the biggest critical branding mistakes and how to avoid them. They break down and analyse how avoiding these mistakes can save you untold amounts of time and money. Interested in learning more?

August 14, 2019
John and Mike discuss the 5 pillars of online sales conversion. Our proprietary formula is responsible for driving every marketing strategy we create. There's also some hot advice on how having a great why the message can keep your wife extremely happy...

August 14, 2019
Here's a look at what this podcast is, and where we plan on taking it. We'll also dive right into fundamentals discussion. Are you confusing marketing and advertising? Strategy with tactics? [powerpress]