Just Fly Performance Podcast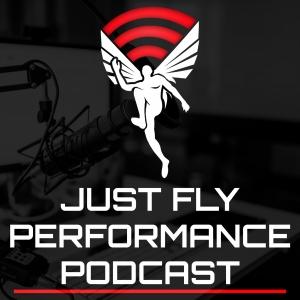 372: Sheldon Dunlap and Jeff Howser on Oscillatory Strength Training for Speed, Strength and Power Development
August 17, 2023
Today's podcast features sports performance coaches Sheldon Dunlap and Jeff Howser.

Sheldon Dunlap is currently serving as a Strength & Conditioning Specialist with MARSOC (Marine Special Operations Command). Previously, he has worked at the collegiate level coaching a wide variety of sports at UC Davis and Duke University.

Jeff Howser is a speed and performance coach with strong roots in track and field.  He spent 20 seasons as Duke's speed and conditioning coach and has trained a variety of team sports and high-level track and field athletes.  Jeff was a world bronze medalist in the 110m high hurdles and a multi-time ACC champion.

When you look at all of the possible training variations out there today in strength and athletic performance, you realize that a great majority of our modern training has been done in some way, shape, or form, many decades ago.  One method out there that is more recent in nature is partial range, oscillatory repetition methods with barbells for the sake of improving athletic speed and power.

Sheldon appeared way back on podcast #131 speaking on his integration of oscillating reps, into the Triphasic system pioneered by Cal Dietz.  Sheldon originally learned the oscillating method from Jeff Howser (who also learned it from Cal's influence).

On the show today, Sheldon and Jeff will be speaking extensively about the nuances of oscillatory strength training for athletics.  We'll be covering repetition style, percentage of 1RM to utilize, integration into the rest of the program, seasonal aspects, tendon concepts, and much more.

Today's episode is brought to you by Lost Empire Herbs, TeamBuildr, and the Sprint Acceleration Essentials Online Course.

For 15% off of Exogen Wearable resistance, follow this link to lilateam.com or use code: jfs2023 at checkout.

For 15% off your Lost Empire Herbs order, head to lostempireherbs.com/justfly.

To try Pine Pollen for free (just pay for shipping), head to: justflypinepollen.com.

To learn more about the Sprint Acceleration Essentials course, head to justflysports.thinkific.com

TeamBuildr is an online software for coaches and trainers.  I've continued to hear great things about the Teambuildr platform, and whether you are looking for an in-house training portal or an online training hub, be sure to check out Teambuildr training software.

View more podcast episodes at the podcast homepage.

Timestamps and Main Points
3:00 – How Sheldon and Jeff first met, and where their training journeys have led them since our latest podcasts

7:30 – How Jeff got started with oscillating training repetitions and his origins with the methods

12:45 – Oscillatory training definitions, and then how Sheldon and Jeff use the method in athletic performance

26:00 – How Sheldon and Jeff bring in oscillatory training throughout the training year

38:30 – Coaching and execution styles of the repetitions in oscillatory strength training

42:30 – The quality of oscillating squat execution, on their athleticism and athletic ability

44:00 – Thoughts on individual factors in oscillatory rep training

47:00 – How oscillatory rep type work differs from simply putting a timer on a lift, as per how long it takes an individual to complete their repetitions

54:45 – How to integrate oscillating rep training into an entire training system, in light of other dynamic movements in a program, such as plyometrics

1:06:45 – Powerlifting

1:10:30 – The ratio of using oscillating training, versus more "health-based" lifting applications in a program

Sheldon Dunlap and Jeff Howser Quotes
"The main thing for me is controlling the speed and distance of the oscillation and controlling the speed of the oscillation.  When I did it the oscillation distances were 6-9 inches, depending on the weight and how deep you were.  it's not a controlled descent, you can take a lighter weight and make it a heavier weight by giving people time under t...
---
Download Episode