It's All Been Done: A Barenaked Ladies Podcast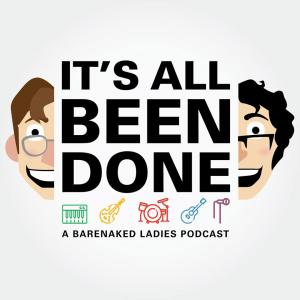 11: Told You So
April 23, 2019
Uh oh! It's those boys! They said they'd see you again in the next episode! TOLD YOU SO!  And here we find ourselves, talking about all the things we told you. Let's keep telling you things.
Also in this episode:
- You're trapped in The Cell with The Cellmates! (The Cellmates is what we're calling that podcast, despite whatever we said in the ep.)
- Steven Page, The Carbuncle! Or possibly Ed, we keep changing our minds.
- Dom Delouise and Mick Jagger, best friends.
- BONUS SEGMENT: TONIGHT IS THE NIGHT I FELL ASLEEP AT THE WHEEL!
Get yourself some IABD shirts! Wear a logo on your chest!
Catch us on the 'net!:
Facebook: https://www.facebook.com/profile.php?id=1593559714014720
Twitter: @beendonepod
---
Download Episode