It's All Been Done: A Barenaked Ladies Podcast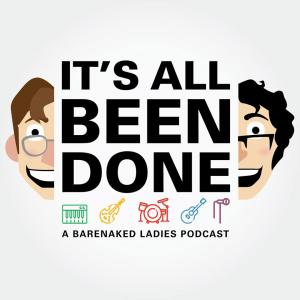 Childhood's End 01: Fraggle Rock (with JAROD ANDERSON of THE CRYPTONATURALIST)
March 12, 2019
Happy birthday, It's All Been Done! Here's a REAL WEIRD bonus episode to celebrate our first anniversary--a backdoor pilot for Evan's dream podcast, Childhood's End. We're conscripted our friend Jarod Anderson of THE CRYPTONATURALIST to gab about childhood favorite show for weirdos, Fraggle Rock! Dance your cares away with furry freaks that AREN'T the Barenaked Ladies!
We'll be back again at the end of the month with our next regularly scheduled episode!

(If you've never listened before, don't start with this non-canon episode! Go for, oh golly...how about ONE WEEK with JUSTIN MCELROY? Season four, episode one!)
Get yourself some IABD shirts! Wear a logo on your chest!
Catch us on the 'net!:
Facebook: https://www.facebook.com/profile.php?id=1593559714014720
Twitter: @beendonepod
---
Download Episode