It's All Been Done: A Barenaked Ladies Podcast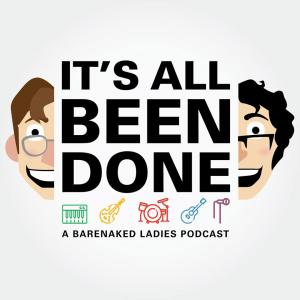 13: In The Drink (with KYLE WERTZ of ASAP RAPS)
December 11, 2018
Is it good? Is it awful? Is it something that you want to avoid playing with your parents in the room? KYLE WERTZ (ASAP RAPS, Mayor Wertz) joins the boys in order to dissect this truly gross-ass jazz jam sesh.
ALSO IN THIS EPISODE:
- Can God drop a ball so heavy he can't lift it?
- Gollum and Huey Lewis, sittin' in a tree.
- What in the serious goddamn is a "road mix?"
- BONUS SEGMENT: WRAP YOUR ARMS AROUND ME!
Get yourself some IABD shirts! Wear a logo on your chest!
Catch us on the 'net!:
Facebook: https://www.facebook.com/profile.php?id=1593559714014720
Twitter: @beendonepod