It's All Been Done: A Barenaked Ladies Podcast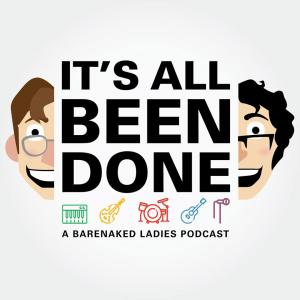 10: Spider In My Room (with KYLE MCCARLEY of NIER: AUTOMATA)
November 20, 2018
There's a spider in our pod! To help squish it, we've called in expert exterminator KYLE MCCARLEY (Mobile Suit Gundam: Iron-Blooded Orphans, NieR: Automata), the biggest BNL fan in the world of voice acting! So are we putting a huge B-Nake Buddy on a song that we're not really on board with? Spoilers: you betcha!
ALSO IN THIS EPISODE:
- And then the Wendigo was there!
- Evan drops some goddamn jorogumo knowledge on you, Yokai freaks.
- Beware the turkey witch.
- BONUS SEGMENT: IF I HAD $1000000
Get yourself some IABD shirts! Wear a logo on your chest!
Catch us on the 'net!:
Facebook: https://www.facebook.com/profile.php?id=1593559714014720
Twitter: @beendonepod