It's All Been Done: A Barenaked Ladies Podcast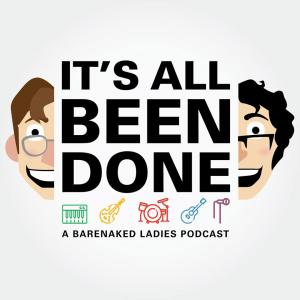 7: The Old Apartment (with MATT BESSER of UPRIGHT CITIZENS BRIGADE)
October 23, 2018
Evan and Saker are quickly blending into dull tableaux, but they're fighting back against the void with the help of MATT BESSER! Together, the three navigate their way through one of BNL's biggest hits. Are we over the 90's? Do Baby Boomers experience nostalgia? FIND OUT!
ALSO IN THIS EPISODE:
- Do YOU remember the Rugrats? We barely do!
- Matt admits to a misdemeanor!
- Finally, the savory Ben & Jerry's we've all been waiting for.
- Bonus Segment: EVERYTHING OLD IS NEW AGAIN!
1993 "Got Milk?" commercial: https://www.youtube.com/watch?v=OLSsswr6z9Y
Goddammit, Leslie Odom Jr. reenacting the commercial: https://ew.com/article/2015/05/20/hamiltons-aaron-burr-recreates-famous-got-milk-commercial/
Get yourself some IABD shirts! Wear a logo on your chest!
Catch us on the 'net!:
Facebook: https://www.facebook.com/profile.php?id=1593559714014720
Twitter: @beendonepod