It's All Been Done: A Barenaked Ladies Podcast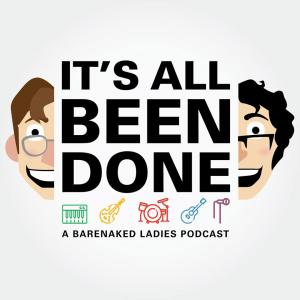 10: Life, In A Nutshell (with MIKE MITCHELL of DOUGHBOYS)
August 21, 2018
Remember that funny bit Dr. Evil did about nutshells in Austin Powers? I should've mentioned that during this episode. It would've probably been a hit. MIKE MITCHELL (Doughboys, Love, Bubble, The Birthday Boys) joins Evan and Saker to discuss track ten from Maybe You Should Drive. The deepest of cuts!
Also in this episode:
- Monkeys always aim for the dick first.
- Public poopin' and the socialization thereof.
- Wolly, Irma, Gabrus, Running On Empty. Doughboys fans, I made sure to cover all the bases. (Listener note: this episode takes place in the Doughboys canon previous to Mitch's name change in "Pink's Hot Dogs.")
- Bonus Segment: EVERYTHING OLD IS NEW AGAIN!
Catch us on the 'net!:
Facebook: https://www.facebook.com/profile.php?id=1593559714014720
Twitter: @beendonepod