It Aint Weak to Speak with Sam Webb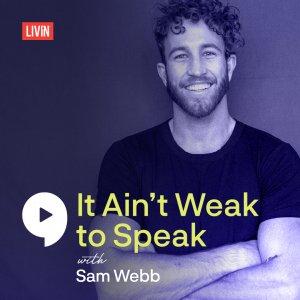 #53 Justin Davis Speaks on Reevaluating Relationships & Breaking the Burden of Self-Sabotage
August 24, 2021
My guest on the show today is Justin Davis. Justin talks about his past relationships and why his fear of intimacy and vulnerability caused him to self sabotage and repeat the same mistakes over and over again. We go deep into Justin's abandonment issues from his father and mother, how this played out in his relationships and how he came to an understanding that he had the power to break the cycle.
Please rate and review the podcast if you enjoyed it. Much Love, SW.
For the full show notes and to learn more, head to www.livin.org
@livinorg @mrjustdavis #itaintweaktospeak.
Join us on our Facebook Group www.facebook.com/groups/itaintweaktospeak/to share your story, breakthroughs, challenges, and to connect with other people to learn more about positive mental health.
---
Download Episode