It Aint Weak to Speak with Sam Webb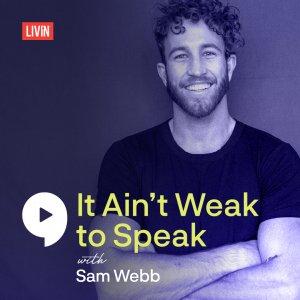 #46 Simon Hill Speaks on The Proof is in the Plants
May 25, 2021
My guest today is Simon Hill who, apart from being my personal friend, is a Physiotherapist and Nutritionist who has spent much of his career digging into the science to decipher how we can fuel our bodies to promote longevity, minimise stress and reduce the chances of disease. In this episode, Simon discusses the direct connection between our gut health and our thoughts and how we can use good food and nutrition as a form of self love to build the foundation for a healthy happy life. Simon is passionate about making nutritional information simple and accessible. He is the plant based food contributor to Chris Hemsworth's fitness app, Centr, owner of Eden, a plant based restaurant in Bondi Beach, Australia and author of the book, The Proof is in the Plants.
Please rate and review the podcast if you enjoyed it. Much Love, SW.
For the full show notes and to learn more, head to www.livin.org
@livinorg @plant_proof #itaintweaktospeak.
Join us on our Facebook Group www.facebook.com/groups/itaintweaktospeak/to share your story, breakthroughs, challenges, and to connect with other people to learn more about positive mental health.
---
Download Episode