It Aint Weak to Speak with Sam Webb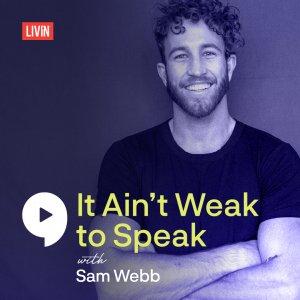 #26 Luke Shuey Speaks On Handling the Wins & the Losses in AFL
October 10, 2020
In this episode, Luke shares his approach to game preparation and how he has taken his new role as captain in his stride. Luke discusses the importance of making sure his teammates are coping well and providing a safe space for each other to speak up when they are struggling. Luke also shares his advice to young players who aren't reaching the success they hoped for and tells some inspiring stories of footballers who entered the game as mature aged players, encouraging others not to give up.  This episode will encourage you, inspire you and help bring some perspective on what life is all about.
Please rate and review the podcast if you enjoyed it. Much Love, SW.
For the full show notes and to learn more, head to www.livin.org
@livinorg @themadshueys #itaintweaktospeak.
Join us on our Facebook Group www.facebook.com/groups/itaintweaktospeak/to share your story, breakthroughs, challenges, and to connect with other people to learn more about positive mental health.
---
Download Episode