It Aint Weak to Speak with Sam Webb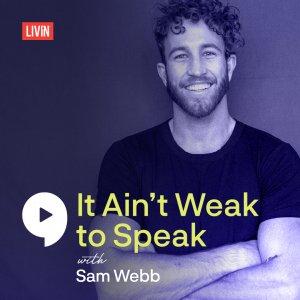 #21 Danny Green Speaks On Life In The Boxing Ring & Why He Started The Cowards Punch Movement
September 05, 2020
In this episode, Danny reflects on his glory days in the ring and talks about what he misses about the professional boxing life. Being a self proclaimed space cadette, he takes a laugh at himself and marvels how he was able to focus in the ring. Reminiscing the training camps, adrenaline highs and widespread media coverage, Danny shares in his lighthearted way how he managed his mind and body during such high pressure situations.  He also shares how his carefree approach to life made any criticism roll off like water on a duck's back.
Diving into 12 Rounds and the inspiration behind starting the franchise, Danny brings home the point that it's all about community.  Not everyone wants to be an elite athlete, but each and every person needs a sense of belonging and something to be a part of.  Danny talks enthusiastically about the great culture and inclusive community that has been established at 12 Rounds and how it's more important to him than anything else.
Please rate and review the podcast if you enjoyed it. Much Love, SW.
For the full show notes and to learn more, head to www.livin.org
@livinorg @dannygreen.boxer #itaintweaktospeak.
Join us on our Facebook Group www.facebook.com/groups/itaintweaktospeak/to share your story, breakthroughs, challenges, and to connect with other people to learn more about positive mental health.
---
Download Episode