It Aint Weak to Speak with Sam Webb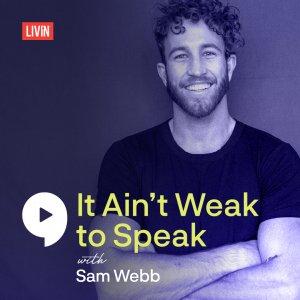 #6 Kate Fitzsimons Speaks On Turning Tragedy Into Triumph
April 25, 2020
Kate Fitzsimons, our incredible guest today, is a woman who knows all too well the pain of losing a loved one. Originating from Australia, Kate is an acclaimed Youth Resilience Expert and International Motivational Speaker living in New Jersey.  She speaks to thousands of young people every year about building resilience to overcome adversity.
In this episode, Kate shares how her life has been impacted by her sister's death and how we all have the opportunity to learn and grow from the tragedies in our lives.  You will be so inspired as you listen to Kate's positive message as she unpacks some of the powerful skills she has learned along the way.  No matter what you are facing now, there is so much potential for growth if you choose to change your perspective.
For the full show notes and to learn more, head to www.livin.org
@livinorg @katemaree_fitz #itaintweaktospeak.
Join us on our Facebook Group www.facebook.com/groups/itaintweaktospeak/to share your story, breakthroughs, challenges, and to connect with other people to learn more about positive mental health.
---
Download Episode