in.pencil podcast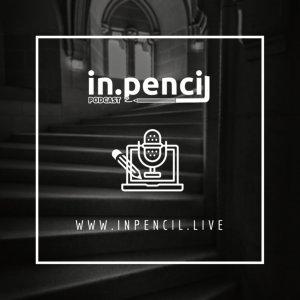 Latest Episodes

October 27, 2021
In this fun-filled episode, we go off on tangents about measurements, discuss the Dubai expo, and critique Nintendo's strategy toward it's new online expansion pack. --- Send in a voice message: https://anchor.fm/inpencil/message Support this podcast:

September 05, 2021
In somewhat of a continuation of last week's episode, today we discuss the not-so-hypothetical scenario of the complete elimination of online anonymity. Spoiler: it's grim.  Desecendents - That's the Breaks [https://genius.com/Descendents-thats-the-b

August 20, 2021
Welcome back (again) to the in.pencil podcast. In this episode we play a little catch-up, discuss positivity, and some other random stuff.  Philip Summers [https://twitter.com/heyphilsummers] --- Send in a voice message: https://anchor.fm/inpencil

June 28, 2021
E3 afterthoughts, John McAfee, Liminal Spaces, Mark Hoppus, and the subtle art of divide and conquer. The Final Hours of John McAfee [https://www.thedailybeast.com/the-final-hours-of-john-mcafee] Hoppus has Cancer [https://people.com/music/blink-182s-mark

June 13, 2021
In this episode... Bo Burnham Inside Review, new music from Relient K and Bowling for Soup, a discussion on social media and COVID, E3 predictions, video game poetry and more. Bo Burnham's Inside [https://www.netflix.com/title/81289483] Bo Burnham on YouT

June 06, 2021
Welcome back to the in.pencil podcast. This is the first episode of Season 3 featuring some unique discussions on a bunch of topics.  How Harry Reid, a Terror Interrogator and the Singer [Tom DeLonge] from blink-182 Took UFOs Mainstream [https://www.

March 07, 2021
Everyone wants to cancel something. Let's shift our energy to cancelling things that are actually problematic.  in.pencil: https://www.inpencil.live in.pencil YouTube: http://youtube.inpencil.live Adam's YouTube: https://www.youtube.com/channel/UC5rg

March 07, 2021
We are taking a break. But we still have a lot in store.  in.pencil: https://www.inpencil.live  in.pencil YouTube: http://youtube.inpencil.live  Adam's YouTube: https://www.youtube.com/channel/UC5rg7Gy9nlmKnnOkfIH8guQ  Jess's YouTube:

February 06, 2021
Welcome back to another episode of the in.pencil podcast, where scripts are thrown out and things just sort of happen. In this episode we take a look at the world around us as it is right now and try to make sense of it. There's no shortage of political c

January 03, 2021
This one's a bit personal.  --- Send in a voice message: https://anchor.fm/inpencil/message Support this podcast: https://anchor.fm/inpencil/support