Hungry for Laughs!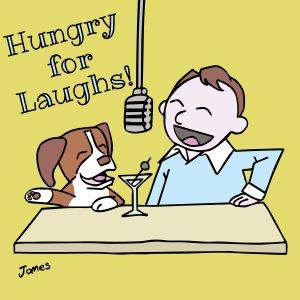 Latest Episodes

June 17, 2019
In episode 90, Chuck talks about cryptids! Cryptids are creatures whose existence is based mostly on anecdotal evidence—not Science! Bigfoot, the Loch Ness Monster, and the Chupacabra are some well-known cryptids.

June 02, 2019
In episode 89, Chuck talks over-the-phone with return guest Gabriella Van Leuven about Oaxaca! Oaxaca is a state in southwestern Mexico, and it's the name of the state's capital city. Gabriella and her family spent a month in Oaxaca in 2018!

May 17, 2019
In episode 88, Chuck talks about replacement actors! It's when an actor is replaced by another actor to play the same character. Only actors in television series are considered—and no animal actors are included!

May 02, 2019
In episode 87, Chuck talks over-the-phone with return guest Shawna Harris about indoor cycling! Shawna has been riding a bike to nowhere for years! Shawna talks about the structure and goals of an indoor cycling class; but Chuck has a friend,

April 16, 2019
In episode 86, Chuck talks about aikido! Aikido is a Japanese martial art created by Morihei Ueshiba (O-Sensei). Chuck has been a fan of aikido ever since he saw the movie Above the Law starring Steven Seagal.

April 02, 2019
In episode 85, Chuck sits down with return guest Tom Kearney to talk about Guinness®! First things first: Guinness® is a registered trademark of Guinness & Co. Chuck and Tom both enjoy a pint of Guinness! Guinness might look like a pancake syrup,

March 16, 2019
In episode 84, Chuck talks about The Pink Panther! Most of the episode is about the British-American film franchise directed by Blake Edwards. The title comes from the name of the fictional diamond that has been stolen in the original film.

March 02, 2019
In episode 83, Chuck talks via Skype from Canada (That's a first!) with Jacob Meza about folklore! Jacob is the host of the So It Is Told podcast. (Find it on iTunes, SoundCloud, and Google Play; Twitter and IG: @soitistoldcast; Facebook: https://www.

February 16, 2019
In episode 82, Chuck talks about omelettes! Chuck recalls eating and making omelettes ever since his oldest brother introduced them to him. The one basic rule to remember about making omelettes is that you have to break a few eggs; however,

February 02, 2019
In episode 81, Chuck talks over-the-phone with his nephew Jonathan and Jonathan's wife Natalie about The IT Crowd! This Britcom had four series (seasons) and concluded with a special episode. This show follows Jen, Roy,