Funnel Radio Channel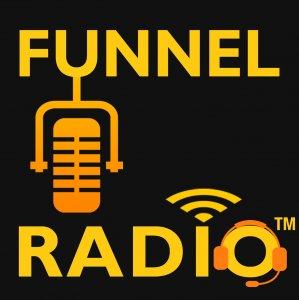 Latest Episodes

July 19, 2021
This episode covers one of the questions from the recent one with EJ and Nina in Funnel Feud. These are the top 8 answers given by 100 podcast hosts, guests, and team members. Aside from swearing, rev

July 05, 2021
You know the music, you know how it works. Play along with our version - Funnel Feud to hear the answers to these questions: 1. What is a reason you would want a do-over with a guest? 2. What is the r

March 24, 2021
Podcasting editors' tips from EJ Albaugh. EJ reminds us that if we can do a bit of practice we can save time and money with our editing solutions. Don't be afraid of a retake, and beware of Zoom twang when there are bandwidth issues for your host or you..

December 21, 2020
Taking advantage of search engine goodness, building communities of podcasters and their teams, as well as profiles for creators is what Podchaser's Dave Keine and Susan Finch talked about today on Behind the Mic. Do not miss the list of free tools, tip..

December 03, 2020
Tune in for this packed episode with free tools podcasters can use to expand their reach. There are two free tools we are going to cover in this episode: Using Playlists to increase your exposure in the podcast venues including Spotify, Apple Podcasts/p..

November 11, 2020
Sometimes guests are hard to secure during the holidays. Sometimes you are pulled in many directions and don't have the same time for your show. That's OK. Make the use of this time to improve your podcast for next season. Listen to these 10 tips you ca..

November 04, 2020
You created this great podcast, or so you thought, and you liked how it was set up, but not really. And you have new team members and they say, "I hate that software, I hate that platform, let's do something better." Or maybe even that platform went awa..

October 19, 2020
Let's talk about television families. The good:The Brady, the Flintstone, Huxtable, Barone, Evans, Drummond & Jackson, Addams, Munster, Cleaver, Duke, Clampett, Arnolds, Jetsons, Partidge, Carwright, Bradford, Cunningham, Ingals, and Kyle Families Then ..

September 30, 2020
  It's as much about the content as it is your voice. Many times I hear hosts that think they can just randomly start talking. Sometimes it's difficult to follow as they dart around taking tangents without ever completing a point or thought. They may ha..

September 08, 2020
There are over 1,000,000 podcasts, the vast majority, however, fail to get beyond the 8th podcast.  Veteran radio and podcast producer Paul Roberts discuss with Jim Obermayer how to avoid being in the graveyard of podcasters. This week's Behind the Mike..