Funnel Radio Channel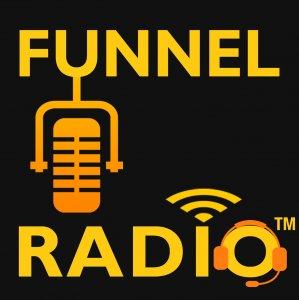 Latest Episodes

November 11, 2020
Sometimes guests are hard to secure during the holidays. Sometimes you are pulled in many directions and don't have the same time for your show. That's OK. Make the use of this time to improve your podcast for next season. Listen to these 10 tips you ca..

November 04, 2020
You created this great podcast, or so you thought, and you liked how it was set up, but not really. And you have new team members and they say, "I hate that software, I hate that platform, let's do something better." Or maybe even that platform went awa..

October 19, 2020
Let's talk about television families. The good:The Brady, the Flintstone, Huxtable, Barone, Evans, Drummond & Jackson, Addams, Munster, Cleaver, Duke, Clampett, Arnolds, Jetsons, Partidge, Carwright, Bradford, Cunningham, Ingals, and Kyle Families Then ..

September 30, 2020
  It's as much about the content as it is your voice. Many times I hear hosts that think they can just randomly start talking. Sometimes it's difficult to follow as they dart around taking tangents without ever completing a point or thought. They may ha..

September 08, 2020
There are over 1,000,000 podcasts, the vast majority, however, fail to get beyond the 8th podcast.  Veteran radio and podcast producer Paul Roberts discuss with Jim Obermayer how to avoid being in the graveyard of podcasters. This week's Behind the Mike..

August 25, 2020
Everyone wants more listeners, but realistically, you want more of the RIGHT listeners - those that will be affected by what you say, those that will share your show, and possibly consider your company and products to solve their problems. But before we..

August 12, 2020
This is one of the reasons podcasts fail - the host is selfish, lazy, inconsiderate. Listen in to learn how to avoid those pitfalls. Fair warning, you'll have some work to do including creating follow up schedules, promotions, writing a thank you note, ..

August 04, 2020
Many people want to do a podcast, but most don't know how to start. Funnel Media Group's VP of Operations, Susan Finch teaches regular courses through the DMANC - Direct Marketing Association's Northern California Chapter. Her most popular courses are o..

July 21, 2020
  Some say getting a guest for your podcast is easy, some say not so easy.  To understand how to get guests and manage expectations for both guest and host we talked with Sheena McKinney, executive assistant, and producer for Matt Heinz's popular podcas..

July 13, 2020
We know podcasting helps businesses establish thought-leadership. During this program, Mark Coronna from Chief Outsiders reveals how his new podcast has helped his visibility. This show will appeal to those seeking thought-leadership branding for their ..