FitLabPGH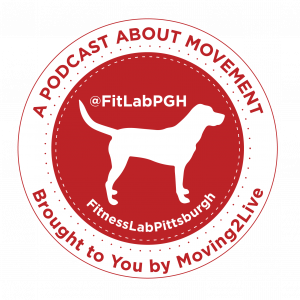 Latest Episodes

May 04, 2021
This week's FitLabPGH Podcast release is a video podcast providing a look inside the FitLabPGH Snack Bin. This is what WE use to fuel our 60-90+ minute movement sessions…primarily hiking, biking, and

March 02, 2021
FitLabPGH recently did a Facebook Live with Kelly Kuhn, MPT, CSCS, PES, Cert-TMD, Cert-MST.  We talked about running injuries and common training errors.  Below is a link to a a video, or listen along

February 16, 2021
This week's FitLabPGH Podcast release is a video podcast providing a look inside Ben's winter hiking backpack. This is what we carry on a 1-3 hour hike…in the winter…with Labradors. The goal is to get

February 09, 2021
Today's FitLabPGH podcast release is a repost video podcast challenging you to find ways to Move More. We are almost 11 months into the pandemic…this was recorded during the last PA order to close all

February 02, 2021
This week's FitLabPGH Podcast release is a video podcast offering Ben's 1-month review of the Apollo Neuro, a "wearable wellness device for stress relief." The Apollo Neuro, developed in Pittsburgh, u

January 26, 2021
This week's FitLabPGH Podcast release is a video podcast to help you keep moving outside through the winter…with a guide for winter workout gear to keep you comfortable from head to toe. If your extre

January 10, 2021
This week's FitLabPGH Podcast release is a video podcast to help you meet your health goals for 2021 and beyond.  We have included the audio only link, but encourage you to check out the video. If one

September 20, 2020
Dr Aaron D. Tressler, DC (in his own words): Chiropractor, Entrepreneur, and Health Expert of 30 years. Specializing in revitalizing life to the fullest naturally with chiropractic care, nutrition, exercise, and mental strength. Author of 5 books,

August 23, 2020
Jessica Kury (in her own words): I am the Director of Special Events for Special Olympics PA and currently running a virtual fundraising event for the organization that centers around movement & activity for athletes of all ability.

June 29, 2020
This week's release from FitLabPGH is a video podcast designed to help you step on the path to healthy, happy feet…because healthy feet help you move more. We've talked about healthy feet…and healthy footwear…before…and our sister podcast Moving2Live h...