Redeeming the Chaos
How to Satisfy Your Thirst When Your Soul is Dry with Hannah C. Hall — RTC 51
September 09, 2022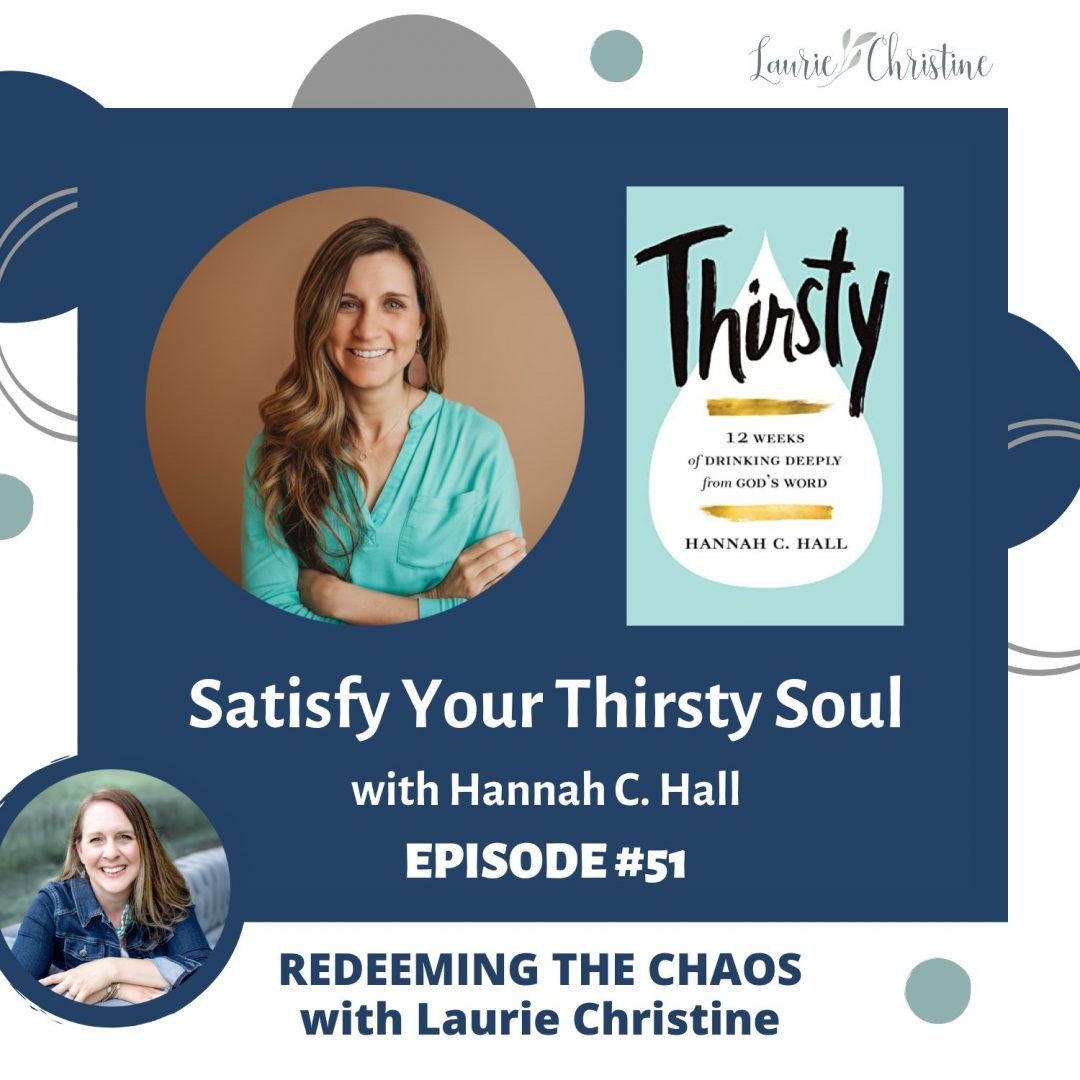 When Your Soul is Dry Like a Dusty Desert
Hey momma, are you thirsty? It's September here in PA, but it still feels like summer most days. A nice, cold, iced coffee might sound pretty good right now. (Hey, if you want to go grab Starbucks, I won't tell anyone!) 
But actually, that's not the kind of thirst I'm talking about. In today's episode of Redeeming the Chaos, we are talking about spiritual thirst. You know – those times when you feel like you're in a dry, dusty desert and you haven't seen an oasis in months. What do you do when your soul is dry?
Welcome to Episode 51 of Redeeming the Chaos. I'm your host, Laurie Christine. I'm a mom of 4 boys, an author, a Bible teacher, and a certified Biblical Parenting Coach.
This is the podcast for moms who may feel a bit frazzled and overwhelmed by the responsibility of raising boys. If you want your boys to grow up to be strong,  courageous young men who are fully committed to following Jesus, this show is for you. 
I'd love for you to join me on this wild, wonderful, chaotic adventure of raising courageous boys and connecting their hearts to Christ.
When Your Soul is Dry and You Have Nothing Left to Give
Hey mommas, I know you've been there.  I know you've experienced times when your soul is dry and your relationship with God felt dead. The demands of raising boys can often suck every last ounce of life from our souls. So what can we do when we're going through a period of drought? What can we do when we don't have one drop of joy left to pour into our kids?
We have a special guest on the show today who is going to help us answer some of these questions. 
Hannah C. Hall is a popular speaker and a bestselling and award-winning author of more than 30 children's books, with over 1 million books in print. Her titles include multiple bestsellers and award winners.  Her newest book is called Thirsty: 12 Weeks of Drinking Deeply from God's Word. Hannah and her husband and their five children live in northwest Arkansas where they share a small farm with dogs, cats, cows, and a flock of finicky chickens. You can find Hannah online at www.hannahChall.com.
Get a copy of Hannah's book, Thirsty: 12 Weeks of Drinking Deeply from God's Word (affiliate link)
Are You Thirsty for More of God's Word?
Here are a few of the topics Hannah and I discuss in today's episode:
Reasons we as moms experience periods of spiritual dryness in our walk with the Lord
What it looks like to drink deeply from God's Word and why this is important for moms
How Hannah's book, Thirsty, can help you dive more deeply into God's Word in order to quench your spiritual thirst
How we moms often try to quench our spiritual thirst in ways that are not biblical when our soul is dry
What to do when you don't have a desire to read God's Word
The importance of drinking deeply of Christ and overflowing into the lives of our kids
You can listen to my interview with Hannah HERE:
LINKS
Thirsty: 12 Weeks of Drinking Deeply from God's Word  (affiliate link)
Check out Hannah's children's books on her Amazon page
YOU MIGHT ALSO BE INTERESTED IN:
Check out these related blog posts / podcast episodes by Laurie Christine… 
How to Avoid Burnout as a Busy Mom with Kelly Jo Wilson
When You Don't See Immediate Results
How to Connect With God as a Busy Mom
Encouragement for Moms – Your Work is Never Wasted
The post How to Satisfy Your Thirst When Your Soul is Dry with Hannah C. Hall — RTC 51 appeared first on Laurie Christine.
---
Download Episode