Redeeming the Chaos
Family Devotions for Easter – RTC 44
March 23, 2022
WELCOME TO EPISODE 44 OF REDEEMING THE CHAOS.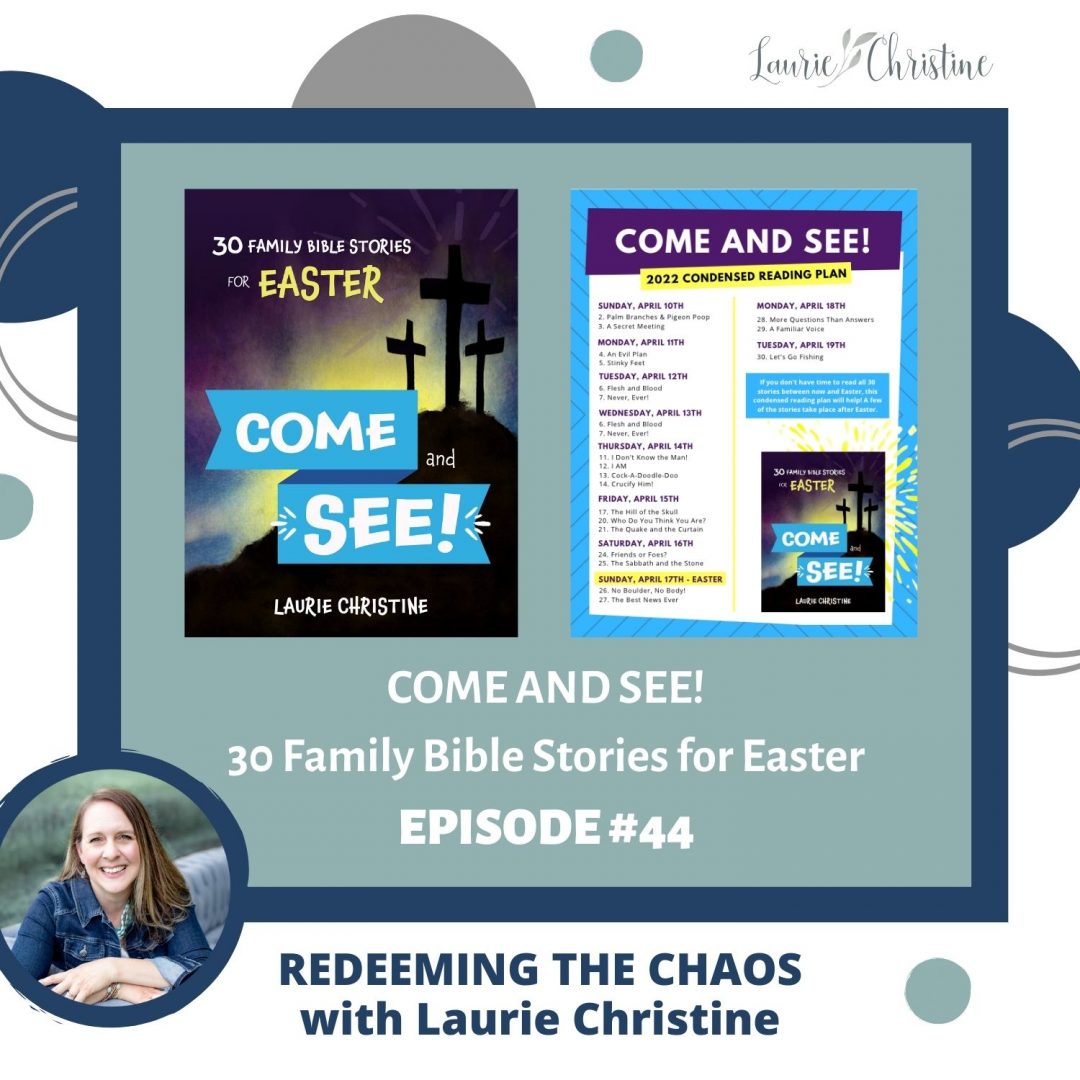 PREPARE YOUR HEARTS FOR EASTER
Did you ever think about the fact that we spend a whole month getting ready for Christmas, but Easter often seems to sneak up on us?  Well, not this year! Easter is April 17th this year and I have a special resource for you that will help you prepare your kids hearts for the celebration of our Risen Savior.
WELCOME TO EPISODE 44 OF REDEEMING THE CHAOS.  
I'm your host, Laurie Christine. This is the podcast for moms who may feel a bit frazzled and overwhelmed by the responsibility of raising boys. If you want your boys to grow up to be strong,  courageous young men who are fully committed to following Jesus, this show is for you. 
In all the chaos of raising boys, we recognize that Christ is the only who can redeem the chaos in our world, our homes, and our own hearts.
I know that I can't do this alone.  I desperately need God to give me strength every step of this journey.  
But guess what… I also need YOU.  
I'd love for you to join me on this wild, wonderful, chaotic adventure of raising courageous boys and connecting their hearts to Christ.
FAMILY DEVOTIONS FOR EASTER
How do you prepare your hearts for Easter?  Do you have any special family traditions? I know in my family, we often spend an entire month celebrating Christmas, but for Easter we pull out a bag of plastic eggs a few days ahead of time. 
A few years ago, I wrote a family devotional for Easter to help my boys dig a little deeper into the events leading up to Jesus' death and resurrection. It's called, Come and See! 30 Family Bible Stories for Easter.
This book is geared mainly for kids ages 6-12, but older children and adults will enjoy it as well. And there are swords, soldiers, stinky feet and pigeon poop, so your boys will definitely enjoy it. 
Come and See!  invites families to experience firsthand the anticipation, the sorrow, the tragedy, the fear, and the ultimate triumph of Jesus' death and resurrection.
Through the eyes of six eye witnesses, you will be led on a journey through the busyness of  the streets of Jerusalem, to the despair of Golgotha, and finally to the celebration of the empty grave.
Come and see Mary's love poured out when she anoints Jesus in Bethany.
Come and see Judas' cunning plan to betray Jesus.
Come and see Peter's confused reaction when Jesus washes the disciples' feet.
Come and see Nicodemus' confliction when Jesus is sentenced to death.
Come and see John's agony as he watches his best friend suffer and die.
Come and see Mary Magdalene's jubilation when Jesus appears, alive once again!
This book includes 30 short devotional stories, each with accompanying Scripture references and questions for discussion and imagination. Use this book to create deeper connections with your kids this Easter as you read and discuss what it would have been like to experience firsthand the events of the Holy Week. May you gain a deeper understanding of the love and life our Lord offers as you and your family prepare your hearts for the celebration of our Risen Savior! 
To download your free copy of the ebook, just go to www.EasterStory.faith
LISTEN TO FAMILY DEVOTIONS FOR EASTER
If you prefer listening to reading, I have audio versions of each chapter available as well.
READING PLANS FOR FAMILY DEVOTIONS FOR EASTER
I also have reading plans available for you to download (links in the show notes as well). If you start reading chapter 1 TODAY, March 23rd, you'll finish with the story of the Resurrection on Easter Sunday and then you'll finish up your reading a few days after Easter. 
But don't worry, if you're listening to this episode in the future, closer to Easter, I also have a condensed, 1-week version of the reading plan that will help you get through the stories a little faster.  The chapters are all fairly short and will take less than 10 minutes to read a chapter. So you're welcome to double up on some of the chapters if you need to. 
In our episode today, I'm going to read one chapter from the book for you, just so you can get a taste of what it's like. I'll be reading Chapter 26, "No Boulder, No Body", told by Mary Magdalene.  
Listen here:
May God bless you this Easter season as we continue to celebrate our Risen Savior!
Join me next time for our regularly scheduled episodes of Redeeming the Chaos, where we continue to embrace the wild, wonderful adventure of raising courageous boys and connecting their hearts to Christ.
The post Family Devotions for Easter – RTC 44 appeared first on Laurie Christine.
---
Download Episode