CompTIA EmTechCast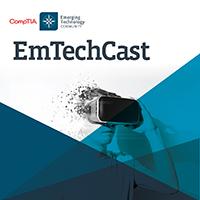 Stackable Technologies with Ted Cole
May 08, 2019
Learn what stackable technologies you can put on your line card and start offering today in this episode of the EmTech Cast, brought to you by CompTIA's Emerging Technology Community.
"It can be as simple as doing referrals and earning a rebate that's paid to them over the life of that contract, all the way up to being a reseller or white labeling the complete solution," said Ted Cole of GPS Insight. In this episode, he sits down with Jim Hamilton, VP of CompTIA Member Communities, to discuss ways the internet of things, big data and artificial intelligence are being incorporated into stacked business solutions.
"Having the opportunity to work with a solution that does incorporate all these technologies is, to me, very exciting," Cole said. "Most exciting is that they're channel ready and available today."
Listen for ways emerging technologies can have a social impact, too. "Fuel efficiency has a tremendous impact on greenhouse gas emissions." he said. "We stand on a future that's dominated by technology, and how it's implemented and used has a tremendous opportunity to impact our world in countless ways."
For more on Cole and how GPS Insight is stacking emerging technologies, visit https://www.gpsinsight.com/looking-to-partner/.
---
Download Episode