Dear Rochester, Retire Well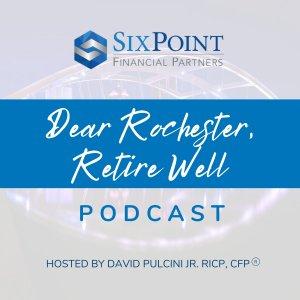 5 Fundamentals to Emotional Health With Dr. Karthik Ramanan (Ep. 52)
December 28, 2022
What comes to mind when you think of health? Eating your greens? Exercise?
Now, what comes to mind when you think of mental health? Therapists? Illnesses?
In this episode, David Pulcini interviews Dr. Karthik Ramanan, Wall Street broker turned emotional health mentor, to share more about reinventing yourself after retirement. Dr. K also shares the five things everyone should practice in order to maintain your emotional health and well-being.
David and Dr. K discuss: 
Dr. Ramanan's journey from success on Wall Street to taking on medical school in Arizona in his 30s

How he reinvented himself to become the person he has always wanted to be

The importance of taking care of yourself and your needs to avoid burnout and procrastination

And more

Book Time with David Pulcini:
Connect with David Pulcini: 
Connect with Dr. Karthik Ramanan: 
About Dr. K: 
First, he lived the imbalance of emotional unrest for which he found and tested various coping methods. Then he studied to become a doctor for greater understanding, applying what he learned to help others. By blending compassion and understanding with his knowledge of medicine and nature, Dr. K can help you see beyond the burnout, exhaustion or frustration you experience now and open your eyes to a world of wonder you may not know even exists.
Securities offered by Registered Representatives of Private Client Services. Member FINRA / SIPC. Advisory services offered by Investment Advisory Representatives of RFG Advisory, a registered investment advisor. Private Client Services, Six Point Financial Partners, and RFG Advisory are unaffiliated entities. Advisory services are only offered to clients or prospective clients where RFG Advisory and its representatives are properly licensed or exempt from licensure. No advisory services may be rendered by RFG Advisory unless a client agreement is in place.
---
Download Episode