Dear Rochester, Retire Well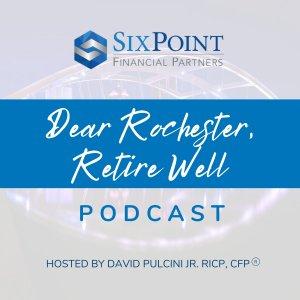 Investment Planning 101 with Rick Wedell (Ep. 47)
August 31, 2022
Financial planning is SixPoint Financial Partners' specialty – we have experience in investment planning, but we're not experts in it.
So we brought one on the podcast.
In this episode, David Pulcini has Rick Wedell, Chief Investment Officer at RFG, to talk about one of the six points – investment planning – and who better to do it than Rick? He was magna cum laude at Harvard School of business and helped build Bain Capital Credit from 14 employees and $300 million under management to $30 billion under management by the time he left.
Rick shares: 
What a typical day as CIO might look like for him

A breakdown of strategic asset allocation

A crash course on tax loss harvesting

And more

Connect with Rick:
Book Time with David Pulcini:
Connect with David Pulcini: 
About our Guest: 
As the Chief Investment Officer for RFG Advisory Group, Rick is directly responsible for the direction and management of RFG's investment strategies, setting the vision for their research capabilities, and managing a turn-key investment platform engineered to help their advisors and their clients with their most pressing investment needs. He previously spent over a decade at Bain Capital Credit, where he was the Head of the Consumer Group as well as an assistant Portfolio Manager for an $8bn CLO business.
---
Download Episode