Dear Rochester, Retire Well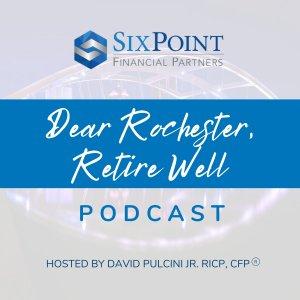 The 2 Sides of the Retirement Spectrum with Alex Neri, CFP®, RICP® (Ep. 45)
August 03, 2022
What happens when you're ready to retire but not quite there financially?
In this episode, David Pulcini hosts Alex Neri, CFP®, RICP®, as they cover two of the most common scenarios they see when clients prepare for retirement. Alex talks about the different approaches to take before running out of money in your retirement years.
David and Alex discuss: 
A scenario in which you have done a great job at saving and retire with more than enough money

The opposing scenario in which you are coming up short before retirement

Two strategies to bridge the gap between what you can afford and the lifestyle you want

And more

Resources:
Connect with Alex Neri:
Book Time with David Pulcini:
Connect with David Pulcini: 
About our Guest: 
Alex is dedicated to helping people meet their financial goals through in-depth discussions and planning. I enjoy taking complex issues and breaking them down into simple and manageable financial goals. I specialize in working with individuals and families as I work to help them properly manage their retirement assets, develop risk mitigation strategies and uncover and resolve portfolio inefficiencies.
---
Download Episode