Dear Rochester, Retire Well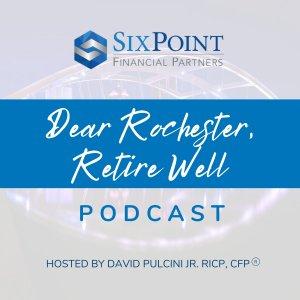 5 Major Financial Milestones After 55 with Alex Neri, CFP®, RICP® (Ep. 44)
July 20, 2022
Between the ages of 55 and 72, you'll face five major financial milestones. Are you prepared to take them on?
In this episode, David Pulcini hosts Alex Neri, CFP®, RICP®, to discuss the major financial milestone timeline he has developed and refined over the years. We also discuss one of people's biggest mistakes within this 17-year timeline.
David and Alex discuss: 
The actual age you are eligible to take distributions from your 401(k)

When, in the timeline, you receive full access to funds in your 401(k) or IRA.

What major milestone occurs across several mini-milestones

Clearing the air about Medicare

And more

Connect with Alex Neri:
Book Time with David Pulcini:
Connect with David Pulcini: 
About our Guest: 
Alex is dedicated to helping people meet their financial goals through in-depth discussions and planning. I enjoy taking complex issues and breaking them down into simple and manageable financial goals. I specialize in working with individuals and families as I work to help them properly manage their retirement assets, develop risk mitigation strategies and uncover and resolve portfolio inefficiencies.
---
Download Episode