Be Calm on Ahway Island Bedtime Stories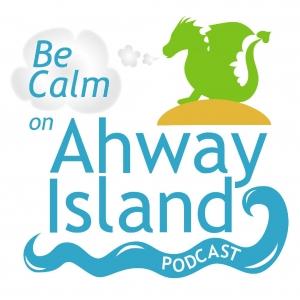 746. Imagination Exploration: a relaxing kids' story
August 28, 2023
This episode of
Be Calm on Ahway Island
is sponsored by Smart for Life.  Their nutritious
Gourmet Protein Bars
are the perfect snack for busy days! Visit
smartforlife.com
and use promo code
CALM20
for 20% off your next order. We're also brought to you by
North American Herb & Spice
, and their all-natural, melatonin-free sleep solution,
Herbal-zzZs
! Get 25% off the entire site, including Herbal zzZs, at
northamericanherbandspice.com
with promo code
Becalm25
. Supporting our sponsors brings you more episodes of Be Calm on Ahway Island!
Zara Kitten wants to show Carlotta Corn Snake around the house, but Carlotta can't leave her tank.
Narrator: Female
Story Begins: 4:44
Imagination Exploration Excerpt:
On a cloudy morning on Ahway Island, at an old farmhouse situated near a sparkling pond, Zara the playful kitten tiptoed around inside the house with excitement bubbling inside her. Her humans were still sound asleep, but what really made her tail twitch with anticipation was the new family member who was also fast asleep! Just yesterday, Zara's family had come back from the animal shelter with a gigantic tank and all sorts of supplies.But the most important thing they brought home was a snake! Not just any snake, but a bright and colorful orange corn snake named Carlotta.
Last night, Allie, the enthusiastic and kind-hearted little girl, had been eager to spend time with Carlotta, so Zara decided to give them their space. But now that morning had arrived and the humans were still nestled in their beds, Zara thought it would be the perfect time to introduce herself to the newest member of the family!
With a soft paw and gentle steps, Zara crept closer to Carlotta's tank. The little kitten leapt silently onto the table on which the enclosure sat. Peering through the glass, Zara saw the snake dozing peacefully under a lamp. She couldn't help but feel a mixture of curiosity and excitement as she watched, imagining all the adventures they would have together. Zara couldn't wait to show Carlotta the barn and the pond!
Today's Meditation: Love flows through you in this meditation as you imagine a baby fawn and mama deer.
Looking for a podcast to help settle your child in for nap time, bedtime or a break?  You'll find it on Ahway Island®. Be Calm on Ahway Island® Podcast offers original bedtime stories, like "Nap Time or Not?" paired with meditations for kids. We help them drift off to sleep with a guided relaxation and a calming story. Gently nestled within each podcast episode are mindfulness techniques and positive learning
moments. You can search for stories by Learning Message, Character Type, or Narrator Type on our Episodes page. To learn more about our mission at Ahway Island and our team, please visit our About page, or check out our FAQs.
We'd like to thank both North American Herb and Spice and Smart for Life for sponsoring us! To experience a peaceful night's sleep with
Herbal-zzZs
parents and grownups can visit
northamericanherbandspice.com
and use promo code
Becalm25
at checkout for 25% off the entire site. For convenient, nutritious snacks, visit
smartforlife.com
and enter the promo code
CALM20
at checkout for 20% off your order.
Thanks for tuning in to Be Calm on Ahway Island. We'll be back with more stories soon!
---
Download Episode