Be Calm on Ahway Island Bedtime Stories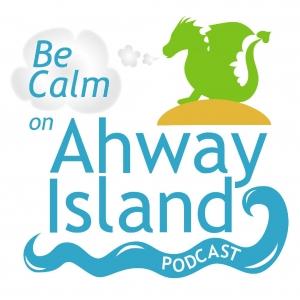 356. Sensory Delight: a calming bedtime and nap time story for kids
September 01, 2023
This episode of
Be Calm on Ahway Island
is brought to you by our friends at Smart for Life. We're excited to introduce you to their nutritious
Gourmet Protein Bars
, a perfect snack for busy days! Visit
www.smartforlife.com
and use promo code
CALM20
for 20% off your next order. Supporting our sponsors helps us bring you more episodes of Be Calm on Ahway Island!
Winfield the Wheelchair and Brian experience sensory delight as they share beautiful colors, scents, and sounds with Javier.
Hello everyone!  We hope you enjoyed our new story this week. Now, welcome to Favorite Friday! Sometimes we like to listen to our favorites again. Please enjoy "Sensory Delight," and we'll be back with a new story on Monday!
Narrator: Male
Story Begins: 7:39
Sensory Delight Excerpt:
A cool breeze circled the little wheelchair, bringing delightful scents with it. Winfield awoke with a smile, wondering where the fragrance was coming from. He would find out soon. Brian released Winfield's brake. He and Javier had finished their lunches. As they got ready to leave Javier's mom mentioned, "Before we head back to the path, this is a sensory garden and you can touch the plants. Just be gentle."
Brian rolled Winfield away from the table and the wheelchair turned towards the path. A gentle cascade of musical notes filled the air complimenting the song of the birds in the trees. Winfield turned his wheels toward the sound hoping to find the source of the pleasant chimes. As he waited for Brian to push the wheels, he noticed another sound. A constant trickle filled the air. Once aware of the sound, the wheelchair found it difficult to let the trickling fade into the background. However, the sound of a train whistle quickly turned everyone's attention. The boys exchanged delighted smiles. Somewhere in the garden there was a train. Javier and Brian wanted to find that train.
Today's Meditation: Imagine floating in a tranquil pool, safe and relaxed, as the water rocks you gently.
Looking for stories that emphasize acceptance, understanding, and empathy? You'll find them on Ahway Island®. Be Calm on Ahway Island® Podcast offers original bedtime stories, like "Magical Chair" paired with meditations for kids. We help them drift off to sleep with a guided relaxation and a calming story. Gently nestled within each podcast episode are mindfulness techniques and positive learning
moments. You can search for stories by Learning Message, Character Type, or Narrator Type on our Episodes page. To learn more about our mission at Ahway Island and our team, please visit our About page, or check out our FAQs.
We'd like to thank
Smart for Life
for sponsoring us! Discover their nutritious
Gourmet Protein Bars
, a wholesome snack for busy days. Parents and grownups, remember to visit
www.smartforlife.com
and use promo code
CALM20
for 20% off your next order. By supporting our sponsors, you're helping us bring you more episodes of Be Calm on Ahway Island!
Thanks for listening to our calming stories on Ahway Island. See you again next time!
---
Download Episode