Be Calm on Ahway Island Bedtime Stories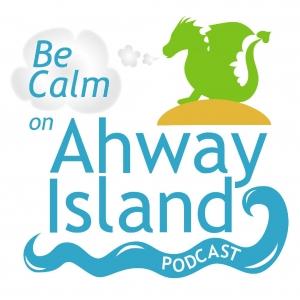 355. Fascinating Fish: a relaxation and story for your nap time routine
August 25, 2023
This episode of
Be Calm on Ahway Island
is sponsored by Smart for Life.  Their nutritious
Gourmet Protein Bars
are the perfect snack for busy days! Visit
smartforlife.com
and use promo code
CALM20
for 20% off your next order. We're also brought to you by
North American Herb & Spice
, and their all-natural, melatonin-free sleep solution,
Herbal-zzZs
! Get 25% off the entire site, including Herbal zzZs, at
northamericanherbandspice.com
with promo code
Becalm25
. Supporting our sponsors brings you more episodes of Be Calm on Ahway Island!
Five fascinating fish explore the nighttime sea. What will they find tonight?
Hello everyone!  We hope you enjoyed our new story this week. Now, welcome to Favorite Friday! Sometimes we like to listen to our favorites again. Please enjoy "Fascinating Fish," and we'll be back with a new story on Monday!
Narrator: Female
Story Begins: 11:44
Fascinating Fish Excerpt:
Moonlight shimmered down through the water giving the reef a soft glow. Five little fish yawned and stretched their fins. The moon and stars encouraged the little fish to leave their coral beds. Curious to see the source of night-time light, Fish One gracefully swam past a sleepy Fish Two. Fish Two joined Fish One. They weaved past each other, back and forth, back and forth. As the fish swam past Fish Three, Fish Three flipped and Fish Four zipped to join the group. Finally, Fish Five twirled around all of them. The five fish giggled and smiled. They were ready to explore the night-time sea!
The five little fish swam away from their colorful coral beds. Fish One led the way through a maze of softly swaying sea plants. The five little fish peeked through the gentle leaves, curious to see who or what they would find today. A shadow floated over the five little fish and they looked up. The mysterious shape glided across the water without any flippers. Fish Two decided to get a closer look and zipped up towards the gentle shadow. Fish Two noticed the shadow had a ridge traveling along the underside of the shape, then zipped back to share the discovery with the others. "I'm not sure what it is yet. It might be a big fish. There's a fin underneath," Fish Two said.
Today's Meditation: Feel calm and relaxed as you send kind energy to your heart.
Looking for a podcast to help settle your child in for nap time, bedtime or a break? You'll find them on Ahway Island®. Be Calm on Ahway Island® Podcast offers original bedtime stories, like "Naptime or Not?" paired with meditations for kids. We help them drift off to sleep with a guided relaxation and a calming story. Gently nestled within each podcast episode are mindfulness techniques and positive learning moments. You can search for stories by Learning Message, Character Type, or Narrator Type on our Episodes page. To learn more about our mission at Ahway Island and our team, please visit our About page, or check out our FAQs.
We'd like to thank both North American Herb and Spice and Smart for Life for sponsoring us! To experience a peaceful night's sleep with
Herbal-zzZs
parents and grownups can visit
northamericanherbandspice.com
and use promo code
Becalm25
at checkout for 25% off the entire site. For convenient, nutritious snacks, visit
smartforlife.com
and enter the promo code
CALM20
at checkout for 20% off your order.
Thanks for tuning in to Ahway Island. We'll be back with more soon!
---
Download Episode