Consider This! | Conservative political commentary in 10 minutes or less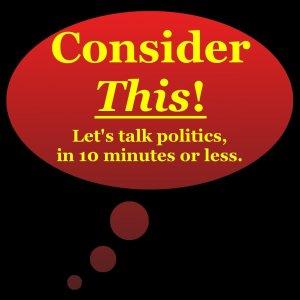 Latest Episodes

February 08, 2021
Many COVID restrictions lifted so soon after Biden's inauguration. San Fran cancels various school names, some for hilarious reasons.

January 25, 2021
A look at some of the executive orders of the Biden administration

January 18, 2021
The idea that mob violence is always wrong is (or should be) non-controversial. But apparently it isn't quite that simple for some.

December 17, 2020
A boycott backfire, a very "personal" gift, and a listener suggests a balanced news site.

December 07, 2020
When Trump started his term, illegal immigration started to trend down. With Joe Biden the presumptive President-elect, what do you think that trend is doing now? Politicians make verbal gaffes; it happens all the time.

November 23, 2020
Down-ballot wins for Republicans. How do you choose your news station

November 02, 2020
A shortened episode to mention just some of the good news of the last four years, and what to do in order to keep it going.

October 19, 2020
Another YouTube video against locking down, except this is not just another crank. Judging Amy Coney Barrett. Social media shuts down sharing of an article.

October 05, 2020
Listeners write about their pandemic experience, defunding the police, and a group supposedly preparing for violence from the Right if they lose the electi